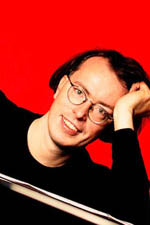 The George Enescu Festival - Interview with pianist Fredrik Ullen
Sunday, 6 September 2009 , ora 16.14

The 'George Enescu and his Contemporaries' Series
September 6th 2009, 11 a.m., Small Palace Hall
You are going to hold a recital at the 'George Enescu' International Festival. Are you coming to Romania for the first time?
Yes, I'm coming for the first time and I can't wait.


You are going to perform The Third Sonata for Piano by George Enescu. What do you think about this work?

For me, Enescu's music is a totally new experience. By all means, I know a lot of his works, but I have not performed any of his sonatas, for instance. So it is going to be very interesting and challenging.


Is this the first Romanian work you include in your repertory?

Yes, come to think of it, this is the first important work.


Have you ever collaborated with Romanian musicians?

Not really. I have lived in Hungary for a long time and I have performed a lot of the Hungarian repertory. Some of the persons I have worked with came from Transylvania, like György Kurtág, but I have never collaborated with Romanian musicians.


In your recital you are going to perform extremely important works of the 20th century, composed by Scriabin, Stockhausen, Ligeti, Messiaen, Xenakis and Enescu. Are you trying to draw a thorough picture of the musical creation done during Enescu's time?

I am generally interested in the idea of constructing complex performances and also of creating constellations of contemporary or traditional music; I like to picture the entire recital as a single musical piece. I want this performance to be like this as well. At the same time, the organizers want certain musical pieces in the performance or make certain suggestions, so this is a combination between my ideas and theirs.

In your recitals you generally perform Classical, Romantic, but also Modern and Contemporary music. Do you think that the repertory of the 20th and 21st centuries requires special qualities on the part of the interpreter?

In the case of certain musical pieces, yes, I think so. I am referring to Modern composers who have developed special techniques of creation. For example, Ligeti with his rhythmic structures or Xenakis. But we also have composers such as Cage who develop new techniques of interpretation. As far as these composers are concerned, I agree with this idea. I am not going to contradict you. But, on the other hand, we have the general piano technique. No matters what you perform, the music must be perceived in the same way.


As far as Modern and Contemporary repertories are concerned, I have noticed that you perform with the same joy both very well known works and others that are at a first audition or that you have rarely performed before. What are your priorities in this field of activity?

I have devoted a lot of time to Contemporary literature, as well as to less performed songs. Now I find it very interesting to come back to more traditional works and look for connections between old and new music. So, I'm telling you once again, I love the idea of having mixed programmes.


Your research activity at The Stockholm Brain Institute is extremely interesting. What are your objectives and what are your results to this day?

We are very interested in putting into effect a mental research and analyzing music and musicians from the point of view of their mental activity. Some of these interests focus on the effects that the long rehearsals the musicians undertake from an early age have on the brain. We also study creativity, musical improvisation and their effects. So in a way we are interested in music itself, but we also use it as a window to the brain.


What is your opinion about musical logic? Do you think it works according to the same rules of the mental logic?

If you are talking about the emotional concept of music, I would rather say that this is something very different from what we usually refer to as logic. While creating a work there are two ways in which the brain works. An intuitive one, less logical, based on certain images, musical ideas, after which we have to switch to another way, more logical, more structural, more similar to science. A gifted composer can switch from one way to another: one more intuitive and the other more systematic and scientific.


Would you like to say something to the Romanian audience?

I cannot wait to come to this country with such a beautiful musical tradition. It is a real joy for me to get to know Romanian composers and the Romanian musical life and to visit Bucharest.
Monica Isacescu
Translated by Tanase Andreea and Mircea Filimon
MA Students, MTTLC, Bucharest University