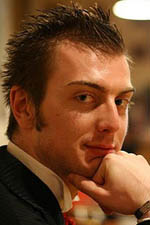 Interview with Andras Chiriliuc, President of the Joseph Schmidt Association
Friday, 15 January 2010 , ora 12.56

The Romanian Post Office has recently launched a commemorative stamp dedicated to the Bukovina-born tenor singer Joseph Schmidt. Details can be found in the following interview with Andras Chiriliuc, President of the Joseph Schmidt Association.

'Postal stationery' is a technical term which refers to what philatelic agencies or, should we say, philatelic branch offices in every country make on special occasions; the purpose is usually the commemoration or celebration of a special event or a personality from a certain place or cultural area. In this particular case, the 'postal stationery' refers to the 105 years which have passed since the birth of Joseph Schmidt, the great tenor singer, an artist born in Bukovina on March 4th, 1904. The 'postal stationery' actually consists of the envelope with the portrait of the great tenor and also the stamp which is previously imprinted, so that the envelope can directly be sent to the recipients.


What other events dedicated to tenor singer Joseph Schmidt are scheduled for 2010?

We are looking forward to the 3rd edition of the Joseph Schmidt International Canto Competition. Then we would like to start up the Joseph Schmidt Expo where we have pictures, concerts and other information about the great tenor singer. We want to continue the series of commemorations of great cultural personalities during a special Joseph Schmidt Gala Celebration and to offer them the Joseph Schmidt Jubilee Medal. Finally, we have a very beautiful project called Suceava Theatre Company, which will bring, two years after its coming into being, a whole series of performances in Romania as well as outside its borders.

Translated by Georgiana Mîndru
MA Student, MTTLC, Bucharest University