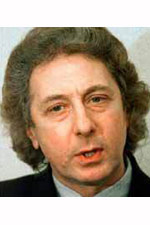 Conductor Rasvan Cernat, at the age of 65
Wednesday, 24 February 2010 , ora 13.11

On Tuesday, February 23rd,2010 conductor Rasvan Cernat turned 65. Taking this opportunity, we talked to him about the project he had been involved in 2010, and the satisfaction given by fatherhood.
Happy birthday to you, Mrs. Rasvan Cernat!
I wish I could express my gratitude for the wonderful attention that you show me. Unfortunately, such consideration seems to vanish, as the artists prove to be neglected nowadays.
Which are the projects that you have been involved in?
Thank God, I can brag and enjoy a rich and sustained activity: here it is, on February 21st 2010 I conducted Madame Butterfly by Puccini in Bucharest, and two days before this I had a symphonic concert (Brahms program) in Constanta. Almost every week I have at least a show or a concert, which is a great pleasure for me, as it keeps me fit, and I hope I will succeed in doing it for many years to come, because I feel I have the strength - both mental and physical - to carry on what I have managed to treasure up within all these years. Famous persons, such as Sergiu Celibidache, stated once that being an orchestra conductor meant reaching artistic maturity after the age of 47. I strongly believe them and I consider that the gathered knowledge polishes and improves itself with age.
I will continue having shows at the Opera in Bucharest, as well as in Constanta. I am waiting for June 2010, because there will be a symphonic concert with George Enescu Philharmonic Orchestra in Bucharest, after so many years without any contract between me and this institution. I hope the program of this concert will be interesting and delightful: in addition to a first hearing - Calin Ioachimescu`s flute concert (played by his son), there will also be Richard Strauss`s The Symphonic Poem Macbeth, and Puccini`s Missa di Gloria.
Last year you had the opportunity to collaborate with Oleg Danovski Opera and Ballet Theatre from Constanta, mainly with your daughter Rasvana Cernat, who directed Carmen, Cavalleria rusticana and Pagliacci. What did that period of time mean to you?
Maybe there were the strongest feelings I have ever had and I hope there will be further chances to live such moments again. It was the first time when personal emotions were minor, being seized and focused on what was happening on stage.
So, you are a proud father!
I am proud of my daughter, who is an excellent well grounded artist, and also of my son, who preferred to choose a diplomatic career, even though he graduated "George Enescu" High School of Music.
Thank you for your time, and let us tell you once again "Happy birthday to you"!
I do thank you and I am impressed by your gesture. Let me address in return my best thoughts and feelings to you, too.
Interview by Irina Cristina Vasilescu
Translated by Alinda-Gabriela Ivanov, Andreea Velicu MA Students MTTLC, University of Bucharest