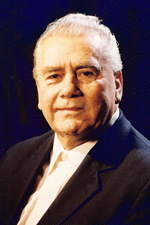 Marin Constantin at the age of 85 years old
Monday, 1 March 2010 , ora 12.05

Currently,
Marin Constantin
is one of the most important people of Romanian music. He is the founder and the leader of the most famous Romanian choir, namely the
National Chamber Choir Madrigal
. Marin Constantin turned 85 years old on February 27th and on this occasion he gave us an interview where he talked about a subjective past as well as an objective future.

When did you feel the call for conducting for the first time?
When I was in Buzau at the Schoolteachers School - the Normal School - my teacher there, who would be my professor later, at the University of Music - Maestro Ioan D. Vicol - appointed me to conduct the class choir. Then, I also played theater there with some of my colleagues and he gradually encouraged me to conduct the school band, then a mixed band, where there were also girls from the Normal School. We were anxious to meet the girls from the Normal School, for you can imagine what meeting girls at that age - 15, 16, 17 year old - meant for us.

When was the first time you became aware of the incredible level of fame achieved by the Madrigal Choir?
I had already worked quite a lot when I started working with a band that met a series of my requirements, that came from my peculiarities as future intellectual and musician at the same time.

Which is the key to success in music, in your opinion?
The key to success is a very fine, deep and strong merge between study and talent.

Would you admit having a favorite concerto or recording of the Madrigal Choir?
I have esteem for all of them. It is not only my contribution to this achievement, but also the achievement of people I worked with.

How do you see the future of Romanian music?
Well, unfortunately, when one is 85 year old, the eyesight is weaker than in younger years, the years full of life. I am not a pessimist, but I can not be an optimist either because this is clearly not a period auspicious to artistic accomplishments. And this is not because of people. Romanians are eager to create beautiful things in this field. But the debates between politicians force you to realize that, in these days, it is more important for them to fight with each other and less important to tackle what school and church taught us, so that achieved people - in terms of age, consciousness and culture -create wonders that are the basis for a worthy and special living.
Andra Ivănescu
Translated by Zenovia Popa, Andreea Velicu
MA students, MTTLC, Bucharest University