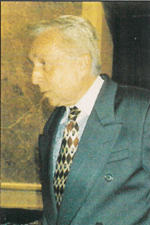 Alexandru Leahu – 75th Anniversary
Tuesday, 2 March 2010 , ora 11.18

Alexandru Leahu, aesthetician, musicologist and professor, is one of the most important names in the Romanian culture. His twofold interest for music and imitative arts may somehow be due to his studies in the capital of Italy, followed by his education at the Bucharest Conservatory. His translation of Friedrich Nietzsche's The Case of Wagner has not yet been equaled and one of his volumes, Masters of Clavier is a landmark in the Romanian musicology. The 75th anniversary celebrated on February 27th 2010 has been a great opportunity to ask Alexandru Leahu to share some of his memories as well as his present activities.


When did you first come into contact with music? When did you discover the magic of sounds?

I started studying music from early childhood, namely at the age of 6 or 7. I played the accordion, then the piano – that is also the moment when I discovered all sorts of tunes, especially the popular ones.


What makes today's Romanian music different from other European countries' ?

That is a difficult question. However, from a global point of view, Romanian musicians are extremely receptive to the folklore tunes which have almost disappeared in Western Europe. Even their innovating quests are engrained with stylized tunes of the popular music and they actually manage to reinvent the music they promote.


They say a teacher learns from those he teaches. Which were the most significant challenges you have experienced as a professor?

I have always tried to come closer to the personality of each of my students, to anticipate some of their quests and to guess their calling, their preferences so that I could guide them to a way as close as possible to their dreams and talent.


What do you have in mind for the time being?

At the moment I reap what I have been sowing all these last decades in my pursuit for the right place in the human conscience where music belongs to, and to see how through all its particular languages, music manages to transfigure human features. And this is supposed to put the musical works in a totally distinctive light – a rather different approach from the professional and musicological skills taught at the Conservatory.
Alexandra Cebuc
Translated by Georgiana Mîndru
MA student, MTTLC, Bucharest University