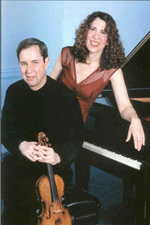 About Enescu with Vivian Weilerstein
Thursday, 4 March 2010 , ora 11.22

Cantabile et presto
for flute and piano and the
Piano Quintet
by George Enescu were played at the New England Conservatory of Boston on March 1
st
. The piano score was performed by professor Vivian Weilerstein who had the initiative of this concert and who spoke to us - passionately! - about the passion she has for Enescu's music. I began by asking her how she had encountered it.
At the beginning of the 1990s, I heard a recording of the Sonata No. 3 for two pianos performed by Yehudi Menuhin and his sister, Hepzibah. I enjoyed it very, very much, I fell in love with it and I told my husband, Donald, with whom I play chamber music, that we must play it, too. So, we learnt it and we've been performing it very often in concerts ever since, for about 15 years. We have also recorded it and I consider it the most popular version. It was Sonata No. 3 that brought me into contact with Enescu's music. Recently, I have found another absolutely amazing work, the 'Impressions d'Enfance' Suite which we played at a chamber music festival a few years ago and which we are going to play again, and this suite led us to the Piano Quintet.
I like everything about Enescu's music: his particular harmonies, the way he uses Romanian traditional music, where he combines sonorous colours and improvisations. Sonata No. 3 is in fact a very long lasting improvisation, and the way the impromptu music is combined with the one strictly written in the score is very unusual and intrigues. Enescu was a genius at writings for both piano and violin because he himself played both instruments. I am attracted to Enescu's music from all points of view! And I would like to add its emotional quality, its profoundness and variety of feeling.
Do you find it very exotic? His music does come from a very different culture.
I am attracted to Enescu's works because they have this quality, they are exotic. The recording I have already mentioned, that of Yehudi Menuhin, was a vinyl disc and it was entitled East Meets West, and I liked very much the idea of bringing together two different areas.
Would you say that Enescu is more exotic than, let' s say, Bartok?
I thought you would ask that! I like Bartok very much as well and I try to play his music as much as I can. I do not think I can give a clear answer, black or white. They are obviously very different - I think that, regarding Enescu, we can talk about a musical, sonorous colour which is rather special.

Do you see in Enescu an East-European composer rather than an European one?
Yes and no. His Piano Quintet is much influenced by French music. He is an East-European composer, from the geographical point of view, but I consider him an universal one, I place him into a higher category, I do not want to subsume and to catalogue him. He was a genius, after all music is music, and I think he would have liked to be described like this.

You are a member of the Enescu Chamber Players group. When was it set up and who are your colleagues?
Everything began with our love for Enescu's music: mine, that of one of the present violinists of the group, Jennifer Curtis, and that of my husband, Donald. One day, we were sitting in a café, talking about how much we like Enescu. Jennifer has worked with Sherban Lupu, she has studied with him and has performed some of Enescu's violin works here in America, as a première. So we thought we must do something to manifest our love for Enescu's music in a more concrete manner.
So far, we have had two concerts in New York, in two different concert halls, and the repertoire included almost only his works. We began with The Art of Fugue by Bach - a variant for string quartet - because we know Enescu was a great admirer of Bach's. Then, my husband played the Sarabande for solo violin, Jennifer - the Arias 'dans le caractère populaire roumain', Donald and I - Sonata No. 3, the one I told you about, and, in the end, the Piano Quintet. We shall also give concerts the next season, and we shall continue to highlight Enescu's work and we may add other composers to the programme.
Also due to my love for Enescu's music, I suggested a composer recital where I teach, at the New England Conservatory of Boston. There is a series of concerts entitled The First Monday, where I present the Piano Quintet, together with other wonderful professors.

So, Enescu Chamber Players is a very young, very recent group!
Yes, it is. We are very excited, we have many ideas, I would like to learn a little about music for solo piano, there are some 'cello sonatas I do not know, there is so much to explore! Enescu's music reaches unexpected levels. Those exotic elements combined with Romanian folklore transcend anything. 'Impressions d'Enfance' Suite won my affections the moment I began practising it. The way it imitates the bird song seems brilliant to me; in fact, everything in this suite seems incredible to me.

How does the audience receive Enescu's music?
Very, very enthusiastically! Of course, the quintet I mentioned is a rather difficult work; it is difficult to play and to listen to it. It is very complex, very complicated; you may find it difficult to create a connection with it, especially after hearing it for the first time. I have noticed that people either fall in love with this Quintet in an instant or they say they need some time to adjust to it. As for Sonata No. 3 or other works, the audience immediately gives a positive response.
That is why I think Enescu is a great composer. His music is universal because it refers to universal feelings and experiences. It is true that my origins are mixed - my parents were born in Vienna, I am Jewish, and they ran away to the United States in 1939. My grandparents are from Hungary, Russia and Poland, so, I have East-European blood. I also have experience as a musician and a professor. I have worked with people from different countries and of different nationalities and I strongly believe that music is a universal language. Although Enescu obviously refers to characteristics and aspects of his own culture, his music is great and it reaches everybody's hearts regardless of the culture one belongs to.
Maria Monica Bojin
Translated by Andrea Niculae and Valentina Tache
MA students, MTTLC, Bucharest University