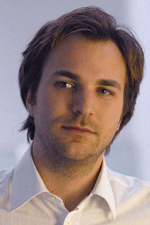 Interview with pianist Herbert Schuch
Tuesday, 16 March 2010 , ora 9.35

Born in Timișoara in 1979, pianist Herbert Schuch emigrated with his family in Germany in 1988. He became internationally known after he had won, in one year's time, three competitions: the Alessandro Casagrande Competition of Terni (Italy), the International Violin Competition of London and Beethoven International Competition of Vienna. Between the 14th and the 21st of March, Herbert Schuch, together with the Radio Broadcasting Company Orchestra of Leipzig, is on a tour in cities like Leipzig, Nürnberg, Stuttgart or Berlin.

You were born in Timișoara and you began studying the piano there. What are your memories related to Romania?
They are very pleasant memories, especially those related to the two years when I studied with Maria Bodo at the Ion Vidu School. That period was very important to me. The bases for my future career were formed then. And after I had settled down in Germany, we kept working together two weeks every summer. From the musical point of view, I owe Romania much gratitude.

What can you tell us about the tour you are making together with the Radio Broadcasting Company Orchestra of Leipzig?
The tour began last week. On March 14th we performed for the first time in Gewandhaus of Leipzig, a place with very important tradition. This tour is an opportunity to go to different cities, for the very first time to some of them.

You have recently studied with Alfred Brendel. What kind of influence has he had on the way you play the piano?
He has had great influence. Before going to him, I thought I could play the piano. After the first lesson, I understood I had many things to learn. It was very interesting for me, I enjoy new musical experiences. In the past 3 or 4 years, Alfred Brendel has had a great influence on my evolution as a pianist and I am most grateful to him.

In the 2010-2011 season you are a resident artist in Salzburg, the town where you studied at the beginning of your career. You will also make a tour in China and you will make your début in towns such as Vienna, Düsseldorf or Cologne. How do you manage to honour all these commitments?
It is, of course, very hard work. I do my best to have everything well organized in order to begin preparing those works in time. It is, after all, a time management related matter. There are though days in my life when I try to relax and to gain strength to face all these challenges.

Which is the next CD you are working on?
It will come out this year and it will include works by Schumann: Papillons, Intermezzi, The Carnival, as well as a lesser-known work - a series of variations on a theme by Schubert.

Have you thought about tackling the Romanian music repertoire?
Yes, I have. In fact, I played some Romanian music under Maria Bodo. I clearly remember that, at the age of 12, I played Toccata by Bughici as well as a work by Silvestri which I liked very much. I have many new works on my agenda right now. I do not mean I shall never play Romanian music. You will probably have to be patient for a while.

When should we expect a concert in Romania?
I have performed concertos by Mozart together with Banatul Philharmonic of Timișoara on two occasions. I enjoyed it very much but, unfortunately, we have quite lost contact. Of course, I am open to collaborations and if I receive an invitation, I will certainly honour it. Unfortunately, Timișoara is the only town I know in the country, so I should very much enjoy visiting Romania.
Andreea Chiselev
Translated by Andrea Niculae, Andreea Velicu
MA students, MTTLC, University of Bucharest