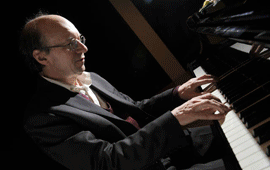 Composer Bernard Cavanna: 'Aurel Stroe is like Schubert, an innovative artist'
Thursday, 1 April 2010 , ora 11.03

Bernard Cavanna, pianist in the Aleph French Ensemble dedicated to contemporary music, has declared himself an admirer of Aurel Stroe, the Romanian composer who had a lot of difficulties in his country under the communist regime. This is the reason why the French artist has decided to make a movie about Aurel Stroe's life, which had its last presentation on Saturday, March 20th 2010 at the Contemporary Initiatives Festival which took place in Combs-la-Ville, France.

Which was the first work of Aurel Stroe you listened to?
The first time I listened to one of his works was in France during a Contemporary Music Festival of, more than thirty years ago, in 1972. Stroe's piece was performed at the beginning of the festival and I arrived there just when the composer was ready to start. I realized even from the very first note that it was something unique, something I had never listened to before and I was charmed; to me it was the most beautiful work performed during the festival. The work is called Canto II and the performance was truly exquisite.

Which is the reason why you chose to make a movie about Aurel Stroe?
On one hand, I was already impressed by his music, and then, after seven years, he came to Paris for a work of his which was going to be performed in a festival in Avignon. We had the chance to meet and we enjoyed each other's company; he even stayed at my place during the staging of the show. He was a composer who always had new ideas. Then I visited him in Bucharest in 1979, during Ceaușescu's regime. Afterwards he came back to France, stayed with me for a year and we remained very close friends. The French Minister of Culture commissioned him some works, such as the Violin Concerto, which is a very popular musical piece in France.
He is one of the best composers of his generation, along with Tiberiu Olah and other musicians. My impression is that even nowadays his music is not properly evaluated; not in France, nor anywhere else, which I find outrageous. In 1998 he had a heart attack from which he fortunately managed to recover from. This happened a few weeks after my father's death. After I lost my biological father I had for a moment the feeling that I was going to lose my spiritual father as well. Therefore I said to myself I had to do something to keep the traces of Aurel Stroe's life; that is the reason why I decided to record him in some video sequences. It was only in order to have him recorded; at that time I didn't think of making a movie. We filmed in Bucharest, Timișoara, Cluj, Mannheim, Paris, and Poitiers and we recorded many of his concerts. I showed these to an important production house in Paris which makes documentaries. They practically fell in love with the film and decided to produce it. The movie was awarded with important distinctions and it run at the MK2 Cinema, an important cinema in Paris.

Would you say that the communist regime restrained or rather stimulated Aurel Stroe's creativity?
I think his reaction towards the regime was rather a stimulus. Before Ceaușescu, things were perceived in a rather pessimistic note, as when Stalinism was instituted in Romania that Stroe's teacher of composition was very close to being arrested and condemned. There was this tendency to reject everything that meant avant-garde in music. The composers at the time reacted to the pressure of the regime in their own ways.
Therefore, I think they were rather stimulated, just like the musicians in the Soviet Union. There, too the composers reacted to the regime's tendency of control, but the Romanians' creativity in avant-garde music was superior to that of the Soviet composers. It is a music that used to be very appreciated in the Western countries. Romanian music was able to make itself known in other countries. But after 1989 there has been a tendency to imitate everything that came from the West, in particular from America. All these have a contradictory effect on composing. For example, I went to Odessa the native country of Sviatoslav Richter, David Oistrakh and other composers, and I was surprised to find only one of Dmitri Shostakovich's scores. Therefore, we can talk about a 'musical desertedness'. I remember that I came to your country during the communist regime and I realized that here there was some sort of solidarity between the composers and the audience, and the concert halls were filled with music lovers. Now my impression is that contemporary music is no longer an interesting subject. And this is sad.

In the movie you made, Aurel Stroe states that the dictator Ceaușescu did not trust the composers. Given the fact that music is an abstract language and its message cannot be entirely perceived, why do you think he makes that statement?
Indeed, this is weird. He did say so and smiled, too. There is indeed an abstract aspect of music. In any totalitarian regime, musicians were oppressed - Paul Hindemith, Arnold Schönberg, Anton Webern, Dmitri Shostakovich, Sergei Prokofiev in the Soviet Union.
Music is an art which the regime could not perceive. Music was considered deviant and was often called 'bourgeois' and 'cosmopolite'. It could not be controlled like a movie, a novel or a play in the theatre. It was distrusted and condemned for not complying with the imposed populist pattern. The people were the ones who had to decide in matters of aesthetics, not the composer. The regime was against the author's creative individualism. Aurel spoke about these things with a smile on his face, even if he had many problems, especially with Choephori, in which the scene where the tyrant dies could have very well been associated with Ceaușescu's death.

Which are the innovative elements in Aurel Stroe's music?
Like Richard Wagner's music, Aurel Stroe's works are extraordinarily innovative; it is a music which has never been heard before. To me, his music is full of vitality, which even if starts quite in a common way, succeeds in creating something magnificent. He is unique. He reinvents the form of contemporary music and always was a step ahead all the patterns imposed. Nowadays, these patterns come from Germany or Italy, from Salvatore Sciarrino for example. In the 1970s, the trend was imposed by Pierre Boulez while in the 1980s spectral music was popular. I understand these phenomena as part of a trend, the way they also were in the 19th century, in Hector Berlioz or Robert Schumann's time. Even at that time, there were academic trends like that of Louis Aubert's. For example, Franz Schubert was ignored in favor of Ignaz Moscheles. Aurel Stroe is like Schubert, an innovative artist. He was also influenced by Ludwig van Beethoven who never submitted to a superficial society.

How was your collaboration with Laurence Pietrzak who took part in the film directing as well?
We met by chance. I had a work which was to be performed at Radio France. At the end of the performance, she came to see me and congratulated me. I asked her what her job was and she told me that she was a film director. I told her about the recording with Aurel Stroe and I asked her to watch them and make a movie. There were things that had to be modified because I was not familiar with the technique, the color balance… We filmed some scenes with Aurel in Romania, then in Germany. After that, during a month, we made the montage. She has a more general perspective, of someone who loves music, while I as composer, have a more specialized view; therefore we could have risked transforming the film into something too complicated. .Our mission was to create an accessible movie which would help people understand and love Aurel Stroe and at the same time an opportunity for specialists to appreciate the innovative elements of Stroe's music. We wanted to make a film which could be easily understood by everyone. Laurence helped us to do that. If I had produced it by myself, the outcome would have been too technical, too specialized. It would have been presented only in the contemporary music festivals. I am satisfied with the final outcome of the film.

What is the attitude of young musicians concerning contemporary music?
There are many orchestras which interpret this genre of music in France. In university schools of music, the contemporary music is very important and young composers find it rather interesting. They interpret works that we could not perform when we were the same age. The contemporary music is very well integrated in their training which is extraordinary. Indeed we do not benefit from much publicity. We barely manage to appear on TV or radio programmes. There are only a few chronicles of contemporary music recitals. For this are responsible the chief-editors or the ones that broadcast TV or radio programmes. Nevertheless, we have no reason of complaining because we have our own audience who always attends our concerts.
Petra Gherasim
Translated by Georgiana Mîndru and Ana-Maria-Nicoleta Mitrofan
MA students, MTTLC, Bucharest University