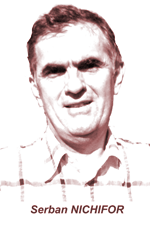 Șerban Nichifor - the winner of an international competition
Wednesday, 28 April 2010 , ora 9.45

Composer Șerban Nichifor is one of the two winners of the competition aiming to establish the work which will be used as background music for the website of the Music Biennale Zagreb. The jury of the competition included Berislav Sipus, Kresimir Seletkovic and Nina Calopek. More information about the winning work - Continuum/Clock - has been offered to us by its composer, Șerban Nichifor.

What can you tell us about the prize you have recently been awarded at Zagreb?
This is the eighteenth international prize my works have been awarded; the work is entitled Continuum/Clock. At morphological level, applying the principle of sound anamorphosis that I enunciated back in 1976 (it's the year when I wrote a homonym quartet Anamorphosis which was awarded the Grieg Prize of the Gaudeamus Foundation from the Netherlands), I have aimed to create apparently disjoint but phenomenologically reducible sound structures like the constituent cells taken from the Romanian folklore, following Enescu's supreme model that represents the essence of the Romanian music school.
Practically speaking, the work was structured in order to be able to offer multiple applications for the background music on the website of the prodigious event of Zagreb. The three modules freely combine and they are structured so that these combinations should be viable, regardless of the way they overlap or juxtapose.
Andra Ivănescu
Translated by Andrea Niculae, Andreea Velicu
MA students, MTTLC, Bucharest University