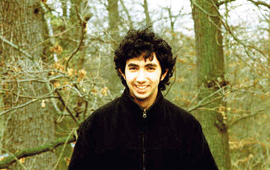 Piano player Karim Said - in an Enescu music recital in London
Friday, 4 June 2010 , ora 10.07

The young piano player Karim Said, the first winner of the Enescu Society Scholarship in Great Britain's capital, held a recital on June 3rd 2010 at the Romanian Cultural Institute in London, where he performed George Enescu's Suite I in G minor op.3, alongside with pieces of works signed by Liszt, Bach and Beethoven.
Born in Jordan in 1989, Karim Said is currently a student of the Royal Academy of Music in London. The musician's international career is already spectacular, as he had won numerous important awards. Among his record awards- there is one from the "Pro Piano" International Contest from Bucharest. He had also performed in prestigious music halls such as Wigmore Hall or the one from the National Opera in Oslo. His remarkable talent was signalled out by the conductor Daniel Barenboim, who constantly supported him throughout the development of his career.
This is the interview given to us by Karim Said:

What do you think about Enescu's Suite no.1 for piano?
I think it is a wonderful piece of work and I am delighted to play it here, given the invitation of the Enescu Society in London. Each part of the suite has different and enchanting aspects. But I think the Adagio slow movement is the most interesting.

Are you familiar with any other piece of work by the Romanian composer?
Yes. I have also listened to Enescu's Suite no.2 and I know it better even than the first one, which I have decided to study. I have even had the high pleasure of hearing it played by Enescu. It was of a great significance for me to discover that Enescu was also a fantastic piano playe r- so, there is a recording with Enescu playing the Suite no.2, which is amazing.

You are the first winner of the Enescu Scholarship offered by the Enescu Society in London. What can you tell us about this?
I feel honoured and flattered for having received this award. It is wonderful the fact that Enescu Society advocates the activity of the musician students in London. It is of a great honour for me, mostly because I am not a Romanian.
My first performing experience took place in Romania, in Bucharest, where I had participated in a piano contest when I was eight. So, I have great memories in what regards the Romanian country, even more as I was born in Jordan, where classical music is not being played as much as here. That was my first important contact with Western music and, fortunately, I won the Romanian contest- the first one in which I had participated. That competition gave me courage to compose music more and more seriously. That is why, it was of a great pleasure for me to receive the Enescu Award.
Interview made by Larisa Clempuș
Translated by Neculai Cristina, Andreea Velicu
MA Students, MTTLC, Bucharest University