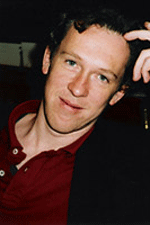 'Etonnez-moi Benoît' with the French writer Benoît Duteurtre
Monday, 14 June 2010 , ora 11.55

The French writer Benoît Duteurtre - invited to launch his latest novel during this year edition of the International Book Fair 'Bookfest' - has produced a programme of classical music at Radio France Musique for ten years, a highly successful programme: Etonnez-moi Benoît.
Duteurtre collaborates also with Le Figaro, Marianne, Paris Match and L'Atelier du roman. His novel Le Voyage en France was awarded the Prix Médicis Prize in 2001, and La petite fille et la cigarette has been translated into twenty languages. Because so rarely a successful writer is also a musicologist, during the visit in Romania of Benoît Duteurtre we took the chance to find more about his passion - the music.

You are not only a well-known writer, but also a pianist, you studied musicology and you have a passion for contemporary music. From where do you have this love for contemporary music?
Modern music always was the most important thing for me. I have loved music ever since I heard the opuses of Debussy, of Stravinsky, and afterwards I have discovered the contemporary music. What driven me towards modern music was the curiosity of discovering new things. As a teenager I was very interested in contemporary music, afterwards I have started being interested in other worlds too: such as contemporary American music, repetitive music. This is now a passion for me.

Since 1999 you have been the director of a radio programme named Etonnez-moi Benoît, which is broadcast by France Musique every week. Which topics do you approach?
It is something totally different, because as far as contemporary music is concerned I try to help the composers through an association which I manage, but my radio programme it is something else. Here I deal with light music - operetta, chanson - which is another facet of my passion for music.
I would like that the operetta repertoire to be rediscovered - because in France, we have quite forgotten this genre. (Benoît Duteurtre is the author of an essay titled L'Opéretteen France - published in 1998 in the publication Revue Opérette - editor's note). I broadcast chansons of 1920's and 1930's, as well as waltzes, polkas and others. This is how my programme looks like, the only successful one of its kind in France.

Congratulation! Because you are an expert in contemporary music, I would like to ask you, in you opinion, which is the current position of the contemporary Romanian music within the European space?
Unfortunately, it is not so present in the European music life. Generally, people listen more and more to old music, nineteenth century's, eighteenth century's and thus less and less to contemporary music. But probably, to a certain extent, it is the composers' fault also, I think the Avant-garde closed a little bit too much within itself and cut the communication means with the audience - sometimes for aesthetics reasons; as a digression, I think that what it should be done - and what I am doing in France - is to try to facilitate the combining of the old repertoire with the contemporary music, that is to perform contemporary works at the concerts of more renown music. It is what I am trying to do through my association in France. (The French writer is also the author of an essay - Requiem pour une avant-garde - which stirred up controversies in the musical world, when it was published in 1995 - editor's note).
Irina Cristina Vasilescu
Translated by Mirela Oprina
MA students, MTTLC, Bucharest University