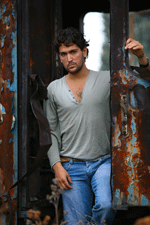 Florin Cezar Ouatu at Potsdam Festival
Monday, 28 June 2010 , ora 12.50

Florin Cezar Ouatu grew up in a family of musicians and studied piano at the Arts High School in his hometown of Ploiești. In 1998 he started singing and made himself noticed as a counter tenor. In 2001 he was accepted at the Milanese Conservatoire, where he graduated in 2004 in the class of soprano Margaret Hayward. He attended performing skills classes held by great names such as Jordi Savall, Sara Mingardo, René Clemencic and Mariana Nicolesco. Florin Cezar Ouatu won prizes at several famous international competitions, such as Francisco Viñas in Barcelona, where he won Best Counter Tenor, Competizione dell'Opera in Dresden (1st Prize), Renata Tebaldi International Voice Competition in San Marino (Prize for Baroque Music) and others.
In 2007, he made his debut on the stage of La Fenice Theatre in Venice, playing the role of Armando d'Orville, the main character in Il Crociato in Egitto written by Meyerbeer and directed by Pierluigi Pizzi. His most recent performances were in plays by Haendel, Vivaldi and Monteverdi, held at the Lausanne Opera, Théâtre du Châtelet, at Dortmund and at Halle. Find out more about the Montezuma show by Carl Heinrich Graun, presented during the Potsdam Sanssouci music festival - and also about future plans in the following interview with Florin Cezar Ouatu.

On June 24th 2010 the premiere of Montezuma, by Carl Heinrich Graun, and directed by Geoffrey Layton, took place at the new Sanssouci Theatre in Germany. You play the main character. Is this your first collaboration with the Potsdam Music Festival?
Yes, it is my first and it is an honor for me to be singing in such superb theatre, in rococo style, where King Frederick the Great once lived. It is a royal atmosphere and I always enjoy walking on the footsteps of great names in history.

Given that the spectacle takes place in a palace, what kind of setting did the director chose? Is it a contemporary staging or one in which costumes and décor are relevant with the 18th century atmosphere?
Everything is very classical. The theatre in which the play will take place is very small, intimate, it has 300 seats and it is the actual place where Frederick the Great used to organize many concerts where great personalities of that time were invited. Thus, the directing is classical, the costumes are classical, and due to our collaboration with Geoffrey Layton, who is a great director, I believe the show will be a success.

You spoke about Frederick the Great - one of the kings of Prussia - and I know that the libretto of the play was actually written by him.
Yes, the libretto was written by him, as he was an intellectual, a flutist and a composer. And during the play, a flutist will always be present on the stage - it is the director's idea to impersonate thus the figure of Frederick the Great, who was a truly gifted man.

He wrote the libretto in French, but there is also an Italian version of the text. What version did you chose?
We chose the Italian version; there is a French version as well, but it has never been sung.

How did you work with your stage partners? Did you already know each other?
Besides Mireille Delunsch - who plays the role of Eupaforice and whom I already knew, it was the first time I have met the others. It is a quite rare and special production, because we can hear four counter tenors with different voices. Montezuma - my character, Pilpatoe - my opera advisor, also a soprano, antagonist Hernan Cortes, the conquistador - also interpreted by a soprano and Narves - Cortes' advisor - played by a medium acute counter tenor.

So that is why there is a difference between the counter tenors even on the poster of the play; because your role, for instance, uses a mezzo-soprano voice, while the other counter tenors use soprano voices.
This was the artistic director's idea and I had several objections at the beginning, but it is meant to surprise the public. There are a lot of conflicting opinions on this subject, but I believe that the version on the poster is correct.

After the Potsdam Festival, where will you be singing?
I will perform a recital by Haendel in the Armida project at the The Berlin Philharmonic - a debut for me on this stage - after which we shall resume Agrippina by Haendel, under the baton of Fabio Biondi at the Halle Festival (where, this year, I was also present with the Armida project). In Romania, I am very happy to be singing Messiah around Christmas holidays, on December 17th 2010 at the Philharmonic of Cluj-Napoca. It will be concert in memory of my father, who passed away a month ago.
In the end, I would like to talk about Frederick II who was a flutist and I would like to say that when I was a child I would sing sonatas for flute and harpsichord written by him with my father. In other words, I would like to dedicate this premiere to my father.
(Note: Florin Cezar Ouatu's father had been a solist and an instrumentalist for over 20 years at the Paul Constantinescu Philharmonic Orchestra in Ploiești)
Irina Cristina Vasilescu
Translated by Andra Stroe and Andreea Velicu
MA students, MTTLC, Bucharest University