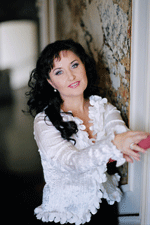 Romanian Performer at the Avénches Opera Festival
Friday, 2 July 2010 , ora 13.23

Soprano
Elena Moºuc
has been kind enough to grant us an interview regarding her performance at the 16
th
edition of the Avénches Opera Festival (Switzerland) where she has the leading part in Gaetano Donizetti's
Lucia di Larmermoor
on July 2
nd
, 7
th
, 10
th
and 16
th
.

Is this your first time at the Avénches Festival?
No, I had another performance - one single show - in 2003 as Queen of the Night in Die Zauberflöte by Mozart.

Please tell us a bit about the festival and its atmosphere.
The festival slightly resembles the one in the Verona Arena with the only difference that this Arena is smaller; it has a capacity of about 5000 places. The atmosphere of Avénches is wonderful; the town is a bit secluded, but it is a charming green spot welcoming a numerous audience every year. The organizers always manage to stage marvellous productions, this year included; Lucia di Lamermoor is a traditional production whose setting perfectly blends in with the natural ambient and singing in Avénches is a real delight.

Who are your partners in this performance?
This is my first collaboration with conductor Peter Balev and director Pier Francesco Maiestrini (whom I've heard is quite experienced in staging performances in grandiose locations). I have worked before with tenor Gian Luca Teranova, in January at the Scala in Rigoletto.

What are the following projects on your agenda?
First of all, I'm going to have a holiday until August as I have had a rather full season. I must refresh myself because in September I am to perform in Lucia di Lamermoor in Hamburg. Next on my agenda is a truly important début, at the Metropolitan Opera, so I have to be in shipshape. In the meantime I have to learn my part (Norma) because I'm having my début in Zurich in February and I have other tours in Munich, and, after Norma, in Berlin during the same period.
Ioana Marghita
Translated by Alina-Olimpia Miron
MTTLC, Bucharest University