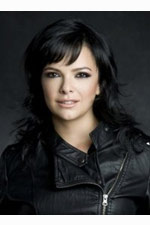 Interview with mezzo-soprano Roxana Constantinescu
Thursday, 11 February 2010 , ora 10.49

How has the year 2010 started out for mezzo-soprano Roxana Constantinescu?

This year has been very busy at The Vienna State Opera, because on the 2nd day of January I was scheduled to perform the role of Rosina in The Barber of Seville, and then there were a series of concerts with Don Giovanni, where I played the role of Zerlina.


On the first week of February 2010 you traveled to Ossiach where you performed twice. Please tell us about this event.

A newly born festival took place at Ossiach. This was its first edition. The festival was founded by musicians from the Vienna Philharmonic. First and foremost, I would like to mention the name of prime flautist Walter Auer who organized the program. It was a wonderful first edition. More precisely, the festival is like an academy for young musicians, who come together and work on a certain program, and I was invited to perform a lieder recital alongside them, including Respighi, Chausson, Enescu - The Seven Songs Of Clement Marot and some well-known lieder by Schubert. The second concert was very special. It started out with Vivaldi, then Britten – Illuminations and finally, Bruckner.


So in a way, this was also a type of rehearsal for your concert scheduled on February 16th at Carnegie Hall, where, again, you will be singing George Enescu's Seven Songs Of Clement Marot, this time however, accompanied by the Raro Ensemble. How did this collaboration with the Raro Ensemble start?

I would say that destiny played its part here. I have known Răzvan Popovici, the founder of the Ensemble, ever since he was a violinist in the Munich Chamber Orchestra. Our collaboration was based on friendship. We haven't yet had the opportunity to sing together due to our different agendas. We performed together only for this recital at Carnegie Hall, but we will resume the program at Wigmore Hall in March, where we will also include several Strauss lieder for me.


Is this going to be your debut concert at Carnegie Hall? No, it won't be. I had the pleasure of making my debut here last year with the Chicago Symphony Orchestra and the conductor Pierre Boulez, singing Pulcinella by Stravinski. I would say that the surroundings are familiar, but of course, emotions are always different.


When will we be able to see you performing in Romania?

There are some beautiful programs in planning with the Raro Ensemble, at Enescu Festival, but until they become certain, I can't give you any more details. Personally, I come to visit Romania quite often. Professionally, I will be visiting soon. I promise.
Monica Isăcescu
Translated by Andra Stroe and Andreea Velicu
MA students, MTTLC, Bucharest University