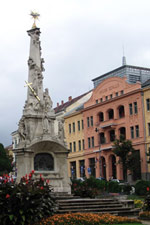 Interview with Nora Czvikli – Pécs, European Capital of Culture
Monday, 15 February 2010 , ora 10.58

Along with Istanbul and Essen Pécs is the European Capital of Culture 2010. The symphonic ensemble Pannon Philharmonic Orchestra who has been performing in this city for almost two centuries is involved in the classical musical projects and is one of the best orchestras in Hungary.

We talked to Nóra Czvikli, the ensemble's programme manager, who told us about their participation in the cultural events of 2010.

'The Pannon Philharmonic Orchestra is our city's main music manifestation of the year and we are very proud to play such an important role. Pécs has got a well-established musical tradition; here there are several old choirs and orchestras – our ensemble will be 200 years old in 2011. We believe these two events – the European capital of culture title and the Philharmonic's anniversary are a perfect opportunity to show everyone some of our city's treasures.

We have organized several programme series, the most important being 'World Stars at Pécs' series where soloists, conductors and renowned orchestras from all over the world are invited. Classical and jazz concerts, films, crossover are to be performed as well as events which blend in many art branches – we want to offer an image of music and art which can prove its complexity, even though in small pieces.


Could you give us some of the names of the ones invited?

At the beginning of the year, we had a performance by New York-born director and composer Steven Mercurio and the ensemble lead by violinist Roby Lakatos – it was an extraordinary concert! In spring, we are glad to meet conductors Oliver von Dohnanyi and Olari Eltz from Estonia, as well as Olivier Latry, organist at the Notre Dame Cathedral in Paris and the virtuoso pianist Fazil Say from Turkey. In autumn, one of our guests will be violinist Patricia Kopacinskaia and in winter one of the best Hungarian musicians, pianist Dezsö Ranki will perform a concert. Conductor Maxim Vengerov will be there as well; he is a presence we very much enjoy and whom we consider our guest of honour.


Therefore one of your guests is from Turkey – Istanbul is as well European capital of culture 2010!

Fazil Say is a distinguished pianist as well as an excellent composer; his presence in Pécs is particularly special because he is going to perform, as first audition, his own Concerto for piano and orchestra called Silence of Anatolia. And because we share the title of European capital of culture with the city of Essen, we also invited a German performer; therefore in June, cellist Leonard Elschenbroich, a very young and talented musician, is going to perform here. As part of the projects we are all organizing under this same title, we, the Pannon Philharmonic Orchestra performed last week in Essen.


The opening of the concert hall in Pécs is also scheduled for 2010. Where have you performed until now?

We can hardly wait for that to happen, for the moment when we will be able to move to a our very own place! We held most of the concerts in the Aula Magna of the Pécs University – we have long had great partnership – and we have also performed at the National Theatre. The opening of the concert hall in autumn or at the beginning of winter means a new stage in the history of our ensemble. The beautiful set, the good acoustics and infrastructure, as well as the technical equipment on hand, will allow us to come up with more various and complex musical projects.
Maria Monica Bojin
Translated by Georgiana Mîndru, Andreea Velicu
MA students, MTTLC, Bucharest University