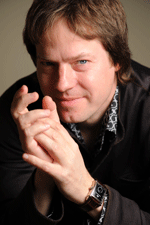 Interview with Jan Vogler
Monday, 12 July 2010 , ora 11.07

First of all, would you please provide us a focused picture of what the Dresden Music Festival means to you?
Dresden is a musical city and, here in this city, we have an active musical life during the entire season. The Festival is meant to be one of the most important evenst of the season and bring here the famous artists in the world today. The festival is addressed to the public who lives in Dresden, that has a chance to hear great musicians from outside Germany, but also to those who come especially for the festival in Dresden.

I believe this is one of the main objectives of each festival.
This is also the our wish . Dresden is a city that was destroyed during the Second World War by the Germans, of course.

You don't have to be politically correct.
But I do want to be. As you can see Dresden is a beautiful city again, because people have made it possible and it is really important for us to understand that human beings communicate better due to music itself.

I walked through Dresden as a regular tourist and witnessed something we could also see in Bucharest: the old historic buildings, but also the communist blocks, now rehabilitated. Your theme is Russia. How did the audience in Dresden receive such a theme? Are 20 years enough to forget what happened before 1989?
That is precisely why we have chosen the Russia theme. 20 years later we should be ready to talk; it is like going to a psychologist to talk about our past. We now have the chance to bring witnesses of those times, like Maiski Mischa, who was imprisoned on political grounds in Moscow. For each of us it is a personal history, as it is for me: I grew up in East Berlin and I felt the presence of Big Brother, as the Soviet Union was then called, and I'm sure it had the same nickname in Romania, when there was opposition towards the decisions that came from Moscow. At the same time, I totally agree with Mischa Maiski about the fact that Russian art is universal and incredibly rich: ignoring it means erasing a very important part of music. And it seemed more important to choose such a theme, rather than just talk about reunification: the reunification of Germany is only a small part of a much larger picture - that of communism disappearing from Europe, especially from Eastern Europe, within only a few months. It is a dramatic history that we share by admitting our feelings and listening to these musicians, some of them being known after 1989, such as Russian National Orchestra, led by Michael Pletniov, others reaching historical fame, which was reaffirmed in the recent years as Mariinski Theater Orchestra, conducted by Valery Gergiev.

What are the new things you have brought to this festival, whose artistic director you have been for the last two years?
The Mayor of Dresden came one day and told me: "The festival is not doing very well…"

Why was that?
People like you would not have come, the press had stopped watching this event. It was no longer dynamic, but this is what can happen to everyone: companies, artists, festivals ...

You always have to reinvent yourself…
Right. The festival had no sponsors, so we turned 180 degrees and we focused on better, but fewer concerts, in the center of Dresden, in musical halls which are near one to each other, so you can go on foot from one to the other. We changed the festival prize and its associated message: now it is awarded to someone who helps young artists and influences society through his music. There seem to be minor changes but the big picture has changed.
Tickets are almost sold out a now, we have five times more support from sponsors than we had in 2008, the press is talking much more about the festival - so we have reached our key targets that we had established and I think it is time now to look at the bigger picture.

What does this really mean?
It is a dialogue with the political leaders and sponsors to see if they agree with me: I strongly believe this festival has the potential to become one of the most important musical events in the world because of the location of the city.
Dresden is located at a crossroad and not every city is good for a festival. We also have many hotels here while in Germany there are many festivals in cities that don't have insufficient capacity to host the guests. We also have fine museums, which means that you can create your cultural vacation and learn about the history of Dresden.

How do you imagine an ideal festival in Dresden?
We have already achieved many of the goals that we believed would take longer to solve. When I remember how the festival looked in 2007 when I took over to prepare the 2009 edition, it seems that I have come a very long road. Now we'll have some meetingd with politicians and sponsors to see how much we can increase the budget ....

In fact, what is the budget of the festival?
2.7 million euros, which is quite small in comparison with, let's say, the Lucerne Festival, a festival that has grown very rapidly as well. 40% of the money come from ticket sales, 40% from the sponsors and the rest from the government.

So the government doesn't offer too much money for the festival.
Yes, in the past, the festival received 75% of the amount needed from the government and the rest from sponsors and tickets. Basically, I already reversed the balance between incomes from state and private sources and we intend to do more.

How have you been affected by the crisis?
We have been affected, but more due to the government, because amounts from the state were higher than those cut by sponsors. I think that the government was more affected by the economic crisis and has tried to optimize some costs, as they call it in the business language, and therefore it has been cut off from culture.

Referring to your concert on May 23rd 2010, what is your vision of Schumann's concert?
For me, it is a matter of confluences between the influence of Beethoven's music, which reflects major social issues and the intimacy of romantic origin. This is the real Schumann. Some chamber music works are very introverted, but some passages are almost symphonic, expansive and extroverted. I think this also reflects Schumann's mental state, which was a big problem for him as a person, but an inspiration for his music. The differences between calm and also excitement in some passages make the Schumann Cello Concerto a great masterpiece.

Manfred Honeck told me that he considered you one of the leading cellists around. What do you think about Manfred Honeck and the Pittsburgh Symphony Orchestra?
I was simply amazed on May 23rd by the quality of this orchestra that performed at Dresden. I think we were fortunate that we could have them in our festival, a moment of grace of the relationship between conductor and orchestra. That does not happen too often: you may invite a famous conductor and a great orchestra, but you can only hear a concert and that's it. I knew that Manfred Honeck was an incredible conductor and Orchestra in Pittsburgh was very good, but what we heard was more than that, it was a total confidence between conductor and orchestra, which created astonishing concert, a highlight of the festival.

And not only that, because we are talking about one of the world's best concerts...
Yes, and I think this conductor, in charge of such a great orchestra, with such valuable musicians, can finally put his talent into full light.

And you are one of the soloists of Pittsburgh's Symphony Orchestra European tour.
Yes, and I am very honored about that. In fact, at this point, it is not only an honor but a challenge, the orchestra being in a very good time in its history. And I felt that at the concert on May 23rd: that we could risk some things, so I changed some ideas on the spot due to their interpretation and in fact this is the meaning of the idea of making live music - to be inspired and to feel the moment..

Let's move from the discussion about an American orchestra to the subject of two lives - one that you have in New York and another in Dresden. First of all, how is it to live two lives in one?
For me, it is natural, as for other musicians who play on different continents. I do not perform in Asia very much, but in Europe and America. America gave me many opportunities, it is the country that also gave Manfred Honeck his current position and the ability to put ideas into practice. Same was for me: New York Philharmonic, Chicago and Boston Symphony Orchestras invited me as a soloist and I saw that the Americans had confidence in me, although I am German and I cannnot explain, even now, why they chose me, but they offered me even more chances than the Germans themselves. In Germany I had to develop very slowly...

No one is prophet in his own country...
Yes, perhaps, while the American experience was different. I moved there because I wanted to work beyond the old German communist spirit. It was very important to feel how the real democracy worked, my wife likes New York and I immediately began to have commitments, so there is a strong emotional connection between me and America.

Which are the differences between the American and European musical lives?
Professionalism in America is very important. You saw the Pittsburgh Orchestra concert, each performer was very focused on what he had to do. Perhaps because this music was not born in America ...

Can it be the economic issue? Manfred Honeck told us that the government did not provide financial support for symphony orchestras.
Yes, this is a very important reason. There is a great earnestness of those who make music there and this is reflected in a very professional way of playing, that gives a special quality to American orchestras. Takke the case of Pittsburgh Orchestra: they are very good musicians, very serious, they come very well prepared for the first rehearsal - this is unique, I have always thought that and that's why I respect them very much.

You usually play classical music and not just that but also tango,and Jimi Hendrix. Why do you do this?
I think something philosophical lies behind this choice. Jimi Hendrix was my idol as a child, I had his portrait on my jeans jacket...

And before 1989, it was a true gesture of rebelliousness ...
Yes, exactly, and my parents were quite worried that I wore it at school.

You had long hair too, right?
Yes, I had long hair. So discovering Jimi Hendrix later, I understood what had fascinated me as a teenager, he was very consistent in his struggle for peace, an example for any human being, whether he grew up in democracy or totalitarianism; if you lose the reins in life that may cause problems and sometimes you can help people and other times you can't. I think Hendrix lost this battle. He couldn't fight against the war in Vietnam. I am thinking of Shostakovitch, also a pacifist. RegardingHendrix, I had some advisors from the department of New York pop-rock, and also some friends, that helped me understand how rock music worked and finally I got something: first, controlling the rhythm, because rock musicians are very rhythmic.
Regarding the tango, I actually learned to dance tango and about the time when the tango appeared: all those workers from Europe who came to Argentina with the promise of jobs and prosperity, but faced with reality: there were jobs, they were unemployed, and what did they do: they created the tango! I think these are lessons about life. I always look for sources that can help me have an overview of the situation. I was fortunate to have very good cello teachers in Germany, when I was at school, but I learned to play, very strictly, in only one way, but later I felt the need to see more, to play more. There was no need to go back to the roots, because they were already there …

So that is why you chose to play music that is neither classical nor pop. Maybe this is the best way to attract a younger audience...
Actually the distinction between classical music and pop music is quite recent. If you look back 80 or 100 years ago, there was a closeness between cultivated music and popular music in the 19th century and I don't rule out the possibility that in the future, classical music, jazz and popular music will be one and the same. That is a possibility. The fact is that nowadays any young musician from New York - whether he comes from Romania, Russia or any other eastern european country - knows to play tango, a little rock and a little jazz. It is a new generation that also know to play authentic Beethoven.

So, that is why you chose to play quite a few contemporary works. I noticed that, especially in America, the successful ones sound like film music.
That is right.

How does your music sound like?
I like variety. As an example I play John Elliott Carter's concert, which is not what we might call popular music. It's hard to be listened to, it is very complicated but is so well written that people still feel that there is something special this work. I think 98% of those who listen to this concert do not make anything of it and I include myself. The first hearing was YoYoMa`s, it is that kind of music where you need to dig, as with Beethoven's last opuses, but maybe the second time, the tenth time, or over 200 years, we will understand this music. I try to judge a music only by its quality and to give it a chance. I played Carter's concert in Munich with the Bavarian Radio Orchestra, and I think some of Carter's crazy fans were happy, and the audience was impressed by his acrobatic aspect, but without understanding everything.
And then there are works that seem simple, as Mansurian's work that I just played as a first hearing and John Harbison`s Double Concerto that I played with the Boston Symphony Orchestra, which are simple only on the surface, but hide more below, because these works are written by intelligent composers. There are no simple rules: I simply pick up works and give them to the world, they must then find their own life, and I hope other colleagues will take and play them. Music is judged by history, and history make its own choices.

You mentioned something about Romanian musicians. Tell us more from about your connection with musical side Romania: composers and soloists.
We have an academy for young musicians at the Moritzburg Festival, the second festival that I am in charge of, and I receive requests from Romania, I invite them ...

Can you give us some names?
I cannot, because starting last year we have 45 musicians for the academy every summer and it is impossible to remember all their names. But I think as everyone knows, Romania is a country with a strong personal style. Of course, I look back, to George Enescu, but now I rediscover the same style at performers who come from Romania. I think I will come to Romania in January 2011, to play with George Enescu Philharmonic and with conductor Mandeal. It is something I saw in my book, scheduled for a long time, but you know, there is still a lot until January.

Have you ever played Enescu?
Yes, a piano quintet, a fabulous, very difficult musical work, requiring numerous rehearsals. I believe Romania is a country with a strong identity and I hope it will preserve its distinct voice.

You are very busy. What makes you carry on with all these projects?
I think it is a matter of energy that helps me relate to others. If I did something wrong, maybe I would get tired very quickly. I work hard, but somehow I don't tired, so I think I do good things at the moment, and not just for me because a lot of energy comes to me from others. I have always believed in this connection through energy: between theperformer and the audience, between the soloist and the conductor. At this point, I think I am very lucky to have found a balance between the interpretation of music, which I think is central to my personality, and the power to influence society through music.

Tell me something about now Moritzburg Festival.
It is a child that I have been feeding right from its birth, as it was an unconventional festival. I wanted, I and several musicians whom I met in America, to gather together to play chamber music during summer. The audience began to come and the festival increased and currently it is, I believe, the largest chamber music festival in Germany - here I am referring to the budget's structure. All the tickets are sold out, it takes place in August and people come from around the world. We have young performers, but also famous ones, who rehearse and then play chamber music together for this wonderful audience that comes to Moritzburg Castle and to other places the festival takes place in.

I would ask you to briefly describe your latest recordings. Some are related to the Moritzburg Festival.
This was done for Mozart's anniversary in 2006. I recorded some of the most important chamber works by Mozart, including Divertisment for string trio, and I think I had a perfect group with a young violist from France, Antoine Tamestit. I think that he is one of Europe's most talented violists. I worked with Austrian violinist Benjamin Schmid who plays Mozart beautifully. It was torture for me to make this CD, because I wanted to approach different ways of interpreting Mozart, trying to reach the extremes in interpreting Mozart. I think it is something inevitable at present, if you want to record Mozart to try to do new things. I am especially proud of the Divertisment.
Tango is another project of the Moritzburg Festival: we all went together and got tango lessons before going in the studio. The key person of this project was a young Venezuelan pianist, Vanessa Perez. We have been looking for a a piano player for this project for long time . I found her in a rehearsal studio in New York and I told her: "You are the piano player that we need for this project." Violinist Colin Jacobsen is also great, who plays a lot with Yo YoMa. Mira Wang, my wife, is also here. We have a tango by Erwin Schulhoff on the CD because I wanted to show Astor Piazzolla`s european connections.
This is a project with a young band from New York: The Knights, I wanted to bring on Jimi Hendrix and Shostakovitch together. And we recorded live at a nightclub in New York, Le Poisson Rouge, a club where Jimi Hendrix played himself. It is a combination between the Russian spirit and rhythm of rock. The group is absolutely wonderful - it is about a live recording, made in a place where there was almost no air to breathe, because the ventilation had been stopped in order not to make any noise, and we were all sweating like we were in the Sahara desert.
This is a young German pianist of great skill, Martin Stadtfeld. His light touch reminds me of Lipatti Glenn Gould's tradition - a gentle touch and an incredible polyphonic ear. I wanted to do a CD of famous works for viola da gamba, but a version for cello and piano. We had about together 20 or 30 concerts together.
I am more of a mentor for this CD. I wanted to give the orchestra The Knights of New York, that I appreciate very much, the chance to record this CD. I only play Dvorak`s Quiet Forest, and the rest is played only by The Knights. And I really believe that they recorded on this CD the most spectacular version of the song, that has ever been released on the musical industry, The Unanswered Question by Charles Ives. I will go on a tour in Germany with this orchestra and I think they will become famous because they posses that genuine sense and stylistic diversity and a lot of talent.
Cristina Comandașu
Translated by Alinda-Gabriela Ivanov and Andreea Velicu
MA Students, MTTLC, Bucharest University