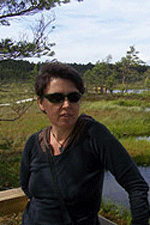 Musical piece by Adina Dumitrescu included in program of the D'Aujord'hui à demain Festival in Cluny
Thursday, 8 July 2010 , ora 14.26

How and when did the musical piece Tropaires enter the repertory of the Nomos ensemble?
The Nomos ensemble consists of 13 cellists, who rotate in their repertoire, under the leadership of Christophe Roy, member of the Ensemble Aleph. I have first I met the members of Aleph and then those of Nomos. I dedicated this piece to the ensemble three years ago. They liked it and they joyfully included it in their repertoire, having played it many times since then. The atmosphere of the Tropaires finds its inspiration in the Byzantine song, more precisely in melody of the Byzantine Troparion. What I wanted to do was to create an atmosphere of prayer, isolation and concentration of personal thoughts.

How would you describe the Cluny Festival?
It takes place in a very beautiful place, inside an old Benedictine monastery. One of the two themes of this year's Festival is a homage to Mauricio Kagel, while the other is A millennium of music in that monastery, and in that region, I guess.
Monica Isăcescu
Translated by Elena Loredana Pastrav and Andreea Velicu
MA students, MTTLC, Bucharest University