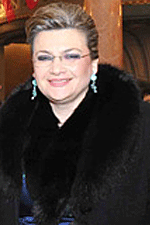 Dialogue with Mrs. Elena Vernescu, organizer of the Musical Evenings at the Romanian Athenaeum in Bucharest
Wednesday, 21 July 2010 , ora 14.23

The Inaugural recital of the new series of musical events offered by ''Lanto Arte'' was held on Wednesday, July 14, 2010. The series will run until November 30. On this occasion, we talked to the president of the "Lanto Arte" Association, Mrs. Elena Vernescu:
How was the idea of organizing a summer festival in Bucharest born?
The idea actually came out of a necessity, of the fact that Bucharest has no classical music events held indoors, in a concert hall during the summer. It is a lack felt by many people and so the idea emerged. We started from a lower level formula and ultimately, it seems that fate wanted us to reach this spectacular version.
What would the specific features of this festival be? And another question, do you intend to transform it into a permanent event?
Of course, we would really want to be able to do this. Nevertheless, a permanent festival would require a certain financial comfort which we should have from one year to another. As specific feature, we can mention, and this is something that I intend assiduously, the participation here in Romania of great Romanian artists, that are living and working especially abroad: Mr. Prunaru Silvia Marcovici, Mihaela Martin, Dana Protopopescu ... Another feature, of the same kind, is that we have many Romanian bands of the highest level. And, another specific feature perhaps, is that the National Youth Orchestra, a favourite of the "Lanto Arte" Association, is again involved in this project.
What would be, in your view, the main attractions which viewers should by no means miss during this festival?
I am delighted to answer this question. One of them would be the names of famous and valuable participants. Another attraction would be the programs, which are extraordinarily beautiful. We are trying to make everyone in the concert hall feel happy, regardless of our emotional state when we enter it. So if we can bring a little bit of happiness with the programs that we've put together, we will be very happy. Another attraction is the opportunity to listen to several musical pieces interpreted on some very valuable instruments. There will be two or three Stradivarius violins, a violin which belonged to George Enescu, a Guarnieri del Gesu that Gabriel Croitoru will play, Mrs. Silvia Marcovici's violin, which is an Albani and Mihaela Martin also possesses a very valuable tool.
Ioana Marghita
Translated by Elena-Loredana Pastrav and Andra Stroe
MA Students, MTTLC, Bucharest University