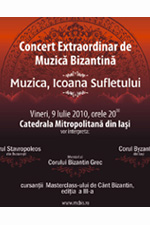 The Byzantine Singing MasterClass has arrived at its third edition this year
Friday, 23 July 2010 , ora 16.48

The third edition of the Byzantine Singing MasterClass was held in Iași between 5th and 9th of July 2010. Organized by the "Byzantion" Cultural Association in co-operation with "George Enescu" University of Arts, the Metropolis of Moldavia and Bukovina and the City Hall of Iași, the event included a succession of master classes and seminars on Byzantine themes that were concluded with an extraordinary concert on 9th of July. Andrei Apreotesei, General Secretary of the Iași "Byzantion" Cultural Association told us how this concert was thought out and who were the guests of this year's edition.

The Byzantine Singing MasterClass closed on July 9 with an extraordinary concert. What pieces did the programme include?
The concert that concluded The Byzantine Singing MasterClass had three parts: the first part was presented by the approximately 150 course participants who have come to this year's edition from all over the country with the aim to improve their knowledge on byzantine music. The second part was held by the "Stavropoleos" Choir members from Bucharest and for the last part of this concert, the Iași "Byzantion" choir, the Bucharest "Stavropoleos" choir and the members of the Greek Byzantine Choir were reunited by the choral conductor, maestro and professor Lykourgos Angelopoulos.

Who were the guests invited to this year's edition?
While three years ago, when we started this project, we had only one guest - Lykourgos Angelopoulos, the aforementioned Greek conductor, this year there were seven professors invited, of which I would like to bring up Giorgios Konstantinou from the State Conservatory of Athens, who took part in last year's edition by running practical and theoretical courses and Dr. Maria Alexandru - University Professor at the "Aristotelis" University in Thessaloniki - daughter of poet Ion Alexandru, the lady who ran the history of byzantine music courses; Răzvan Theodorescu held a conference on Byzantine icons and I would also like to mention Nicolae Gheorghiță from the National University of Music in Bucharest, father Florin Bucescu from the Iași Conservatory and last but not least, Costin Moisil ethnomusicologist at the Museum of the Romanian Peasant in Bucharest.

How would you describe the level of interest in Byzantine music in our country?
It was especially after 1990 when the interest in the field of byzantine music started developing gradually in Romania. This is how we have come to organize the Byzantine Singing MasterClass and we have noticed that every edition has improved our cultural and artistic horizon even more. What brings us the most joy is the fact that not only the people who live a monastic life have come to be interested both in this kind of music and the Byzantine chant courses, but also the young people who are to be admitted to the theological seminaries and theology faculties.
Alexandra Cebuc
Translated by Elena Daniela Radu and Andra Stroe
MA Students, MTTLC, Bucharest University