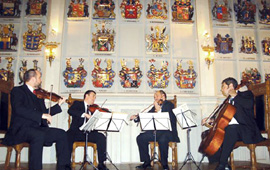 The Ad Libitum Quartet at the Musical Evenings at the Romanian Athenaeum
Tuesday, 27 July 2010 , ora 15.33

The second chamber concert included in the Musical Evenings in Bucharest organized by Lanto Arte Association took place on July 21st 2010 at the Romanian Athenaeum and brought the four musicians who make up the Ad Libitum Quartet in front of the audience. The programme included: Dissonance Quartet by Mozart, Quartettsatz by Franz Schubert, Serenade by Haydn, Chrysanthemum by Puccini, Musical Moment by Schubert, Adagietto by Mahler, Country dance by Dumitrescu and Humoresques by Dvorak. We took advantage of this occasion to ask Șerban Mereuță, the violin player, one of the members of the Ad Libitum Quartet a few questions for a short interview.


I have noticed that you prepared a very varied programme for your recital. Was it compiled taking certain facts into consideration?
The only fact that we considered was that, once it was summertime and most of the Philarmonic's audience were on holiday, we thought appropriate to create a varied programme that otherwise might be difficult to listen to. Mainly, in our concerts, we perform the pieces of the second part as encores. We thought that it would be a good idea to put them together and present them as a unit in the second part of a concert, this being a very good occassion for such an iniative.


How do you generally view the idea of organizing some summer festivals in Romania?
I think that it is a generous and praisworthy idea because alternately, as you very well know, the musical activities pause for two months, not only in Bucharest, but also all over the country where there are Philarmonic societies that will be on the summer holiday. I think that the audience wishes to enjoy more musical events and strictly speaking about this festival, they are of the best quality.


Are there any similar projects in Iași, as well?
No, such decisions have not been made so far, as they imply an approximately high level of effort from all points of view, but I have no doubt that some ideas will come up in the near future.


The audience in Bucharest rarely has the opportunity to listen to you. Why is that?
It is difficult to offer an explanation without being a little acid. I am going to allow those who might be reading this interview to understand how things are and perhaps give the concert organizers the credit that they will do their duty much better in the future.


Where else could we listen to the Ad Libitum Quartet again in the future?
First of all in Iași, where we perform as we are the Philarmonic's quartet, and afterwards in Holland, France, Germany, Belgium... almost everywhere else in Europe.
Ioana Marghita
Translated by Elena Daniela Radu and Andra Stroe and Andreea Velicu
MA students, MTTLC, Bucharest University