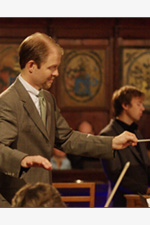 The second edition of the ''Oratorium'' project in Cluj-Napoca
Wednesday, 28 July 2010 , ora 13.08

The second edition of the "Oratorium" began in Cluj on July 20th, 2010. The Oratorium project was initiated by the Jubilate Foundation. Its goal is to bring together artists from different countries in order to create musical events meant to enhance their professional skills and offer young performers new perspectives on their future development. We found out more information about this year's edition of the "Oratorium" from the project manager, conductor Kenneth Tucker:

The Oratorium Project is a thought that I have had for more than 10 years and which was put into practice only last year. It is a master course for choir and orchestra which lasts a week and by means of which we wanted to offer young professional musicians in Romania the opportunity to work with world class professors and conductors. Last year we prepared the "Creation" Oratorio by Joseph Haydn and this year we have a program by Johann Sebastian Bach, under the musical direction of David Gier, one of the assistant conductors at the New York Philharmonic, who brings along a welcome breath of fresh air in his work with young musicians. On July 20th , 2010 we had the first chamber music concert , a special event held at the Reformed Church in Cluj-Napoca. On July 21st there was another chamber music concert at the Ethnographic Museum, notable by the presence of the soprano Georgeta Stoleriu. On July 23rd, the Bach program concert will be held at the Reformed Church in Cluj Napoca, the same program will be performed on July 24th at the Philharmonic Hall in Timisoara and on July 25th at the Mihail Jora Studio of Radio Romania in Bucharest. One significant detail about the event is that this year we have an organizing committee for this project in Cluj-Napoca. The ''Oratorium'' Project is a project developed by the Jubilate Foundation in Oradea and only the foundation managed the project last year. Well, this year we are happy to have with us 12 people outside the foundation. A big step forward is represented by the chamber recitals previously mentioned.

And for the future, what would you like to further develop within this project?

We hope it will extend in terms of duration, we are thinking of 10 days or two weeks, so that more time could be devoted to teacher-student interaction or to rehearsals for chamber music bands. We would also like a symphonic or a vocal concert in addition to the vocal-symphonic concert at the end of the project. Young musicians are very excited to work with the special guests and generally, there is a special atmosphere in which everyone seems truly willing to give all their best. For me, as a choir master, it is a great pleasure and fulfilment to work with such people who want to create a thing of beauty.
Ioana Marghita
Translated by Elena-Loredana Pastrav and Andreea Velicu
MA Students, MTTLC, Bucharest University