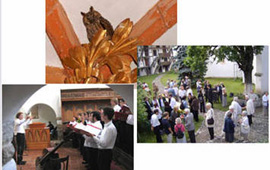 Diletto Musicale Festival in Prejmer
Monday, 2 August 2010 , ora 11.00

The Festival's 12th edition begins on August 1st 2010. On this occasion, we talked with the event coordinator of "Diletto Musicale", Mr. Steffen Schlandt.

What are the features of "Diletto Musicale" summer Festival?
This is the Festival's 12th edition in Prejmer. It is a concept through which we try to make quality classical music in a special and sacral place like the fortified church of Prejmer is. We also try to bring together different bands and a varied repertoire to constantly attract the public. The people attending the festival are mostly coming form other cities, so it is not just the Prejmer citizens and very often we get tourists coming from Brașov or other counties or even foreigners.

Who will be the artists attending this festival?
Among the guests, there is the "Gaudeamus" Quartet alongside the "Bach" Youth Choir of the Black Church. They will be performing in the first concert. Then, there is the "Brașovia" Quartet, a group founded in 2009 that is specialized in old age, baroque music. The quartet will be followed by a group from Sibiu, "Cantate Domino", and on the second-to-last Sunday, two guitarists from Bucharest will be coming to the festival. They also attended the festival two years ago, and made a good impression. The festival will end with a performance by an Italian group, organ and saxophone, a rather unusual combination. This group has been performing for some years now and its formula is quite successful, so we are very curious about what will be their approach.

What are your plans for the opening concert?
This year's festival opens with the celebration of composers Luigi Cherubini and Robert Schumann. Also, the festival will celebrate Claudio Monteverdi's Missa by interpreting three parts. This piece was written in 1610, so it is its 400th anniversary. We wanted to make a tribute to these composers and their works. The opening concert also includes fragments from Missa in D major, with big organ, by Claudio Monteverdi. We want the opening of the festival to be as varied as possible, so that it pleases the public.

I know it is a bit soon, but do you already think about the future edition?
Our thoughts are always about the future. What we want is to be able to invite each year one or more groups that have never attended the festival before, and most of the times we are quite lucky when a Romanian or a foreign ensemble offers to sing at Prejmer. We get a lot of suggestions from musical groups, and we pick out the best. Many times it so happens that we are pleasantly surprised by groups we know little about and whose performance is highly appreciated. The same happened with this year's Italian group - they wanted to come and we included them in the festival. For next year, we are already thinking about bringing certain ensembles, but it is a surprise.
Ioana Marghita
Translated by Andra Stroe
MA Student, MTTLC, Bucharest University