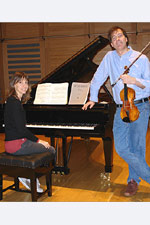 French violinist Philippe Graffin - A passion for George Enescu
Thursday, 4 February 2010 , ora 13.07

On February 4th 2010, at the Romanian Cultural Institute in London – the monthly recital of the «Enescu» Society took place in the capital of Great Britain. On the schedule, among other works by Ravel, Schubert and Schuman – Enescu's Suite «Impressions from childhood» op.20 of Enescu, a work suggested by two French musicians who will visit us, in Bucharest, at the future edition of the «George Enescu» Festival: violinist Philippe Graffin (photo) and pianist Claire Désert (photo).

Philippe Graffin is 46 year old, he studied with Joseph Gingold and Philipp Hirschorn and recorded for important record labels – among which «Hyperion». Martha Argerich, Yehudi Menuhin, Mstislav Rostropovici are a few of the great artists he joined on the stage, and composers like Rodion Scedrin and Philippe Hersant dedicated works to him; and all that was possible because Philippe Graffin is open to new things, as well as to what others, before him, eschewed, for different reasons, from the part devoted to the violin repertoire.

Philippe Graffin recorded the Suite 'Impressions from childhood' together with his recital partner from February 4th, pianist Claire Désert, graduate of the Paris Conservatory and winner of a «Victoires de la Musique Classique» prize for records of piano concertos by Skriabin and Dvorak.

It is gratifying that a famous violinist should be interested in Enescu's music. Could you please share with us your view on Enescu, as the 20th century composer, as the Romanian composer Enescu and as the author who enriched the violin repertoire?

What fascinates me at Enescu, the composer is, of course, the fact that he himself was a violinist. I think the way we understand him today is influenced by the fact that, being such a famous violinist, we consider him, like Kreisler, a violinist who also composed. Well, I think he was a great creator, first of all, who happened to wonderfully play the violin. But, of course, the way Enescu understood the specifics of violin playing was better than anyone else's. It is a blessing that such a composer – who had a major contribution to the music of the 20th century, comparable with Bartok's – understood so well the violin and granted it the importance it deserved, coming from that world, the native Romania, where the violin is so important, given the great fiddler's tradition.


When and how you discovered Enescu?

I have always known Enescu for the mere reason that, while I was a child, I was strongly influenced by Yehudi Menuhin's personality. I remember I started to study the violin after I had watched a recording where Menuhin talked about life, about his childhood and Enescu's studies; so I have always been so aware of the Romanian composer's importance. Then, it was a great honour to me to personally meet Menuhin and to collaborate with him on a few works – for example, the Poem of Chausson – I remember I had studied him before we recorded together. I could say Enescu's presence could be felt in each detail, in fingering keys … Menuhin was already old but I can say that, for him, in his vision upon the world, the most important person was Enescu. I want to outline that my own repertoire vision was influenced by Enescu's.

I am amazed that he was born in a world where, at the beginning, he was considered a modern composer, and ended his life being able to listen to opuses of Pierre Boulez or Michael Tippett – for example; an incredible revolution for one life – probably one of the most important in the history of musical language, of music history, and I am very grateful to Enescu for having had such a musical intelligence that allowed him to assimilate the new. The violin opuses he left me are very dear to me – as it is the case with the Suite "Impressions from childhood"…


How difficult was the nearness to the Suite ' Impressions from childhood'? Do you have a working method to tackle new opuses? – because I read about your affinity for contemporary creation and for less known works.

As regards the Suite 'Impressions from childhood', Enescu described an afternoon spent by a child as a very precise memory of a 5 year old, then the evening of that day, the night and the sunrise... It is a very precise description of a childhood memory, so the music speaks for itself, with a great expressive power. I had to somehow understand that world – that I wished I knew, a Romania at the end of 19th century, seen through the eyes of Enescu as a child. The work – when you look at the score – seems extremely complex, it was written with very, very much attention for each detail of expression Enescu wanted, for each chord and each sound. I am still grateful he left so precise directions regarding the interpretation of each sound; so we could respect the work, not only to the spirit, but also to the letter.


Have you ever played or at least studied other opuses of Enescu?

Yes, I played Sonata No.3 op.25, I played a transcription for string quartet of the first Romanian Rhapsody, made by Vladimir Mendelssohn – that I like very much –, I played Sonata No. 2 for violin and piano, 'Octet' – one year ago, a genius play... So I tackled more than few of his creations, but I contemplate to do more – I am looking forward, for example, to play The Second Piano Quartet, a work I love...


Do you think Enescu is, presently, enough played or he still needs to be made known?

I think Enescu's music was long ahead of his time; an extremely rich music. Very popular works – like the first Romanian Rhapsody or Sonata No.3 'in popular Romanian character' – another timeless genius creation – are the easiest to understand. But I am convinced that, as time passes, the Suite 'Impressions from childhood', for example, will become part of the great violin repertoire and I think we will discover also his maturity works, which will be played and cherished by the musicians...


How would you describe your partner in this recital, pianist Claire Désert, with whom you registered the Suite 'Impressions from childhood'?

I think she is among the most important French pianists. I am very lucky to have the opportunity to work with her, she is a very devoted musician, who appreciates the Suite 'Impressions from childhood' very much – a quality that one does not see at many of today pianists because the work is very difficult to learn, which can be discouraging … Claire Desert likes the Suite, likes to play it – and I am grateful for this.
Interview by ªtefan Costache
Translated by Zenovia Popa, Andreea Velicu
MA student, MTTLC, Bucharest University