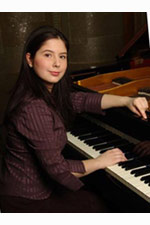 Alina Elena Bercu at the age of 20
Tuesday, 9 February 2010 , ora 13.10

The prodigy Alina Elena Bercu turned twenty years old on February 9th 2010! So, she is not a child anymore, but a young pianist still concerned with the beauty of the music, with ambitious projects and with a constant professional evolution.

Happy birthday, Alina Elena Bercu!

Thank you so much! It is a wonderful gift for me to know that all those I care of , like you, Romanian Radio Broadcasting, are with me in such special moments. It is the most beautiful gift and I thank you very much once again!


What is Alina Elena Bercu doing at the age of twenty?

Twenty years sound quite weird, isn't it? I remember when I first entered your studios at the age of ten, and I feel as if few seconds have passed by since then, but not 10 years! Today is just another ordinary day for me. I am studying, I am preparring for my future projects. As you know, I am in Weimar at the moment, in the 3rd year of study at the University of Music 'Franz Liszt', attending professor Grigory Gruzman's classes, who is absolutely fantastic. I have learned so many things from him and it is an honour for me to have such an extraordinay professor. Regarding my projects, I will tell you about an already finished one. It is about a CD I released with the violonist Ilian Garnet from Chisinau, and on this recording, we had in January a series of concerts in Belgium, and we will perform again there, in April.


What does this CD include?

Schubert's Grand-Duo, Ysaye's Sonata No.3 and Brahms's Sonata No.3. The duet with Ilian is very, very beautiful. I love chamber music. I am glad and I thank God that I had such a pleasant ocasion to meet a violonist of Ilian size. I have so many things to learn from him, from his experience; he is like a brother to me. During March and April I will hold several concerts throughout the country with the Maestro Misha Katz, and I will perform Prokofiev's Concerto No.3, Mozart's 'Jeunehomme' and Rahmaninov's Concerto No.2. Beside these projects I have mentioned about, there are some others, but I would rather keep them as a surprise.
Interview made by Monica Isacescu
Translated by Neculai Cristina, Ramona Grama
MA Students, MTTLC, Bucharest University