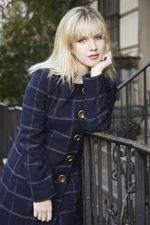 About Robert Schumann, with pianist Natasha Paremski, once again
Wednesday, 4 August 2010 , ora 10.35

Do you remember Natasha Paremski? She is the pianist interviewed by Radio Romania Music on commemorating Robert Schumann's 200th birthday anniversary. Natasha Paremski played the piano for Twin Spirits production, where Sting and actress Trudie Styler read the letters that Robert and Clara Schumann had once written to each other.

In your opinion, what would those three words that best describe the "Twin Spirits" production be?
I would say: impressive, emotional and…intimate. The production is impressive because the script focuses on Robert and Clara Schumann's love story, a very tragic story, as you know, due to Schumann's illness but also due to the fact that their feelings for each other were almost obsessive.
Then, I believe it is intimate because the production's décor is meant to reveal a soiree. You are able to see everyone's facial expression, down to their last wrinkle, from the way in which the cameras are positioned. This gives the shooting quite a real sensation. And, finally, I find the production emotional due to the music and its relationship with words. Schumann's music, in particular, makes it emotional. There are also several beautiful works by Clara Schumann that few have heard of.

Musically speaking, you, alongside cellist Natalie Clein and soprano Rebecca Evans, illustrate the role of Clara Schumann. How did you think this role through, musically speaking?
I think it is basically built on music, Trudie Styler impersonates Clara Schumann and she reads the letters that Clara sent to Robert. I represent Clara through music. The director made a selection of songs written by Clara, but also by Robert or Chopin. All these pieces are meant as different stages of her life, and love life. We start with one of the earliest melodies from Robert Schumann's Kinderszenen. On this musical background, Robert writes Clara that he sees her as a rogue little child, a bit of a tomboy. Then, towards the end, I play a very sad song by Schumann. The piano's contribution is quite small, the lied is almost a capella and Rebecca Evans gives it a gloomy touch. So, the music is such decided upon to reflect Clara, but at the same time, the love evolution between Robert Schumann and her.

What do the Schumann works mean to you? How often do you interpret them in your concerts and recitals?
I play Schumann as often as I can. For me, he is an illustrious composer; his music is so emotional… I see it as an out of control time spiral. It is very obsessive, in the sense that it always finds a motive that keeps repeating on and on, and it is the musician's job to find a way to interpret the obsession without becoming redundant. Also, sometimes it is quite difficult to interpret this overwhelmingly emotional burden. As a musician, I have to respect these aspects, and at the same time, stay focused on the work's structure, its architecture.

Do you think Robert had an influence on Clara's compositions? Do you find it possible for Clara to have remained in the history of universal music if it were not for Robert Schumann, to whom she has always been associated?
Yes, I am absolutely sure that Robert influenced her music, but I believe that he influenced a lot of other contemporary composers as well. Undoubtedly, Clara was a good composer. However, the creations that totally represent her are few. I do not think she managed very well to define her personal style. She was however, such a strong woman, she raised eight children while touring around the world. She attended many concerts, I think, at that time, she was indeed the only woman of such fame. She resembles today's pianists, who can juggle a career and a family at the same time. At that time, this was something that had never been seen. I believe she was an independent woman, despite her obsessive love for Robert. She was both family and career oriented. It was as if she lived two lives at the same time. Clara worked for her children; she was her family's only income. She was also the one attending for Robert during his illness. She was a fascinating woman, with different facets.

Please describe the Robert-Clara couple, as it is portrayed by Sting and Trudie Styler.
They both read the letters that Robert and Clara wrote to each other. They embody the two at a verbal level. When you follow this production you realize that the two have never lost their passion to one another. It is said that sometimes marriage destroys the love and the passion, but for these two, the more time they spent together, the closer they became. That is why I believe their relationship had a tragic ending, as Clara lost Robert too early due to his merciless illness. The disease that killed Robert Schumann is still a mystery, a mystery that has not yet been solved. You can see how close they were, despite the trials of their destiny.

Do you think it is possible to find a couple like Robert and Clara nowadays?
Yes, of course. Why not? Love has no appropriate age or century… I think love is manifested in many ways and I think it is possible for two people to discover that they are soul mates and they cannot live without each other. Unfortunately, we hear more about war and hatred then we do about great love stories. For this, I believe Twin Spirits is a wonderful opportunity to remember that there is also love in this world.
Petra Gherasim
Translated by Andra Stroe and Andreea Velicu
MA Students, MTTLC, Bucharest University