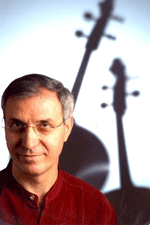 Marin Cazacu on the 2010 'Enescu and the Music of the World' International Festival
Tuesday, 10 August 2010 , ora 10.38

The ninth edition of the 'Enescu and the Music of the World' International Festival began in Sinaia, on Friday, August 7th 2010. The eighteen concerts and recitals of this year's edition (the most ample one so far) will be performed in thirteen days in Sinaia, Bușteni, Predeal, Câmpina and Bucharest. Cellist Marin Cazacu, the Festival's artistic manager, was kind enough to grant us an interview.

Eleven years have passed since the founding of this international festival. What are this edition's novelties?
This edition is almost entirely dedicated to young people, because their presence is overwhelming, if we think about the fact that we have got two young orchestras that sum up 125 young members, mostly young people between the ages of fourteen and twenty-seven. Chamber orchestras of young musicians are also invited. Certainly, several master performers who bring on that proficiency necessary to a festival - and which I believe will blend fruitfully with these young people's enthusiasm - will be present alongside them. I'm talking about maestros Valentin Gheorghiu, Horia Andreescu and Cristian Mandeal, professor artists invited to train the youth orchestras of Germany, Switzerland, Spain and Romania: Bogdan Zvorișteanu, Marius Nichiteanu, Cristian Ifrim, pianist Maruxa Llorente, Steluța Radu and many more.

What can you tell us about the 'Sinfonietta junior' Orchestra?
This edition's novelty is the founding of this younger orchestra - because it is the youngest orchestra nationwide - made of young people between the ages of fourteen and nineteen, selected from all over Romania. 'Sinfonietta junior' will debut at this festival's edition and is led by maestro Horia Andreescu. The programme prepared is so ambitious that it will be a challenge for all those who will come to listen to them.

As every year, you highlight the anniversary of George Enescu, the composer, through a special event. What have you prepared for the concert on August 19th?
I reckon the name Enescu and Music of the World originated in the fact that our famous composer's birth date had not been that well-presented in our programmes. Given that we are in midsummer, Romanian orchestras and especially Romanian musical institutes are on vacation. This festival links Enescu's name with Sinaia in a special way, because he had a marvellous house there, and the presence of the orchestra on the celebrating night of George Enescu is no coincidence. We have two concerts on August 19th: one at 5 p.m., in which we will be performing the most famous works from George Enescu's instrumental repertoire for trumpet, flute, viola, violin, cello, and at 7 p.m., the Romanian Youth Orchestra will be performing famous works by Richard Wagner, Richard Strauss and Pyotr Ilyich Tchaikovsky. (e.n. the concert on August 19th, performed by the Romanian Youth Orchestra will be recorded by Radio Romania Music and broadcast to the European Broadcasting Union within the '2010 Euroradio Summer Season)
Andreea Chiselev
Translated by Mirona Palas and Alina-Olimpia Miron
MA students, MTTLC, Bucharest University