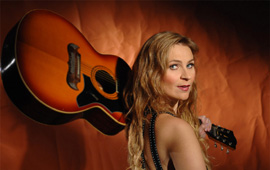 Ruxandra Donose at the Ravinia Festival
Tuesday, 17 August 2010 , ora 10.07

At the beginning of August 2010
mezzo-soprano Ruxandra Donose
was invited to perform, within the Ravinia Festival in the
United States
, the Dorabella of Mozart's opera
Cosi fan tutte
. The two shows were dedicated to the sixtieth birthday of conductor James Conlon who, on this occasion, conducted at the Chicago Symphony Orchestra's music rack. Ruxandra Donose was kind enough to grant us an interview and shared with us details regarding the Ravinia Festival, as well as her future arrangements.

You have recently returned from the United States, from the Ravinia Festival. How would you describe the show Cosi fan tutte, in which you played, and the collaboration with conductor James Conlon?

It was a wonderful experience, because I had the immense joy of being in the presence of a cast with high-class colleagues, but also within the Chicago Symphony Orchestra, which, maybe along with the Cleveland Orchestra – with whom I also performed – is one of the best symphony orchestras in America and surely one of the best all around the world. By that I mean a high-quality orchestra, high-quality soloists, and we had James Conlon at the music rack, a remarkable musician, a very fine man, a musician who also involves in the acting part of the opera. It was a very gratifying experience from all points of view.


The festival you took part in takes place between July and September and brings on stage great artists of classical music, but also well-known names of pop music. How do you find this combination and what is the audience of such a festival like?

Ravinia has already had a faithful audience that comes in great number. This festival reminded me somehow of the Glyndebourne Festival, although this comparison is not complete. What reminded me of Glyndebourne is that the space in which the events take place disposes, on the one hand, of a closed theatre – Martin Theater – of small scale in America, having only 850 to 900 seats. From our European point of view, but also from the point of view of Mozart's operas, it is the perfect scale. Next to this theatre there is an enormous pavilion, an open-air stage, but roofed. The theatre and the outdoor stage are surrounded by a splendid park, where every one can have a picnic or perform other outdoor activities. Since the park is fitted with high-quality loudspeakers, one can listen to the concerts and the shows performed indoors. Our Cosi fan tuttewas listened to by people outdoors; so, you can be an indoor spectator, by paying a more expensive price, and an outdoor spectator, on the lawn, at a cheaper price. There are various ways of enjoying this reunion dedicated to music. And, of course, the audience may vary: from opera to musical, jazz, pop, chamber music recitals, vocal recitals. It is, indeed, a very complex programme, yet Ravinia enjoys a important reputation and the audience is always numerous.


You are now in Romania. What shows and projects are you preparing for the next season?

My agenda shows on August 28th, 2010, a concert at another Festival, in Wales, under the patronage of Bryn Terfel, a baritone I surely needn't introduce, because he is among the world's numbers ones. Alongside Bryn Terfel, , Rolando Villazon and Swiss soprano Sylvia Schwartz, we have in mind a concert with opera arias and duets. At the beginning of September I will be in Berlin, starting the rehearsals for a new production with Mozart's Don Giovanni at the Deutsche Oper. Meanwhile, I will have another gala concert on September 11th, with arias and duets from Mozart and Rossini, alongside soprano Eva Mei, at the ending of another important festival, in Bremen. After finishing the shows with Don Giovanni, where I star as Donna Elvira, I will come back to a role play that is very dear to me, which means to me a kind of return home, a kind of holidays, if I may say so. It is about the role of Cinderella from Rossini's homonym opera – Nice opera's new production, all of them before the end of this calendar year.
Interview by Andreea Chiselev
Translated by Mirona Palas and Andreea Velicu
MA Students, MTTLC, Bucharest University