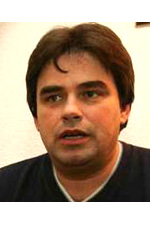 Valentin Gheorghiu and Gabriel Croitoru at the Musical Soirées in Bucharest
Wednesday, 25 August 2010 , ora 12.40

Wednesday, August 25th, a new recital was organized within the series of concerts at the Athenaeum with soloists: pianist Valentin Gheorghiu, violinist Gabriel Croitoru. In an interview violinist Gabriel Croitoru talked about the collaboration of this two musicians and the evening programme.



Once again you perform in concert with maestro Valentin Gheorghiu. What can you tell us about this collaboration – today and during the years?

I enjoy every time I have the chance to collaborate with maestro Valentin Gheorghiu who, as everybody knows, is one of the most important names of the Romanian music. Our collaboration always has been a fruitful one, as we are also friends. We have known each other for a long time and I hope to collaborate as often as possible from now on.



How would you describe the three musical pieces in the programme and the emphasis laid upon the violin of George Enescu through them?

Taking into consideration this summer season, we wanted to create an attractive programme. Because of that we included the Sonatina by Dvorak and the Kreutzer sonata by Beethoven. We also have in the programme the Sonata No. 3 by Enescu, which for – let's say – the uninformed audience might seem less attractive, but think that we will be on the stage with the Guarnieri violin which belonged to maestro George Enescu and which will bring more emotion and even more, because it is an exceptionally marvelous instrument.


It is the second time this summer when you participate to the concerts of the Musical Soirées in Bucharest. What do you think about this series and the audience's receptivity for such an action?

It is absolutely wonderful that during summer, when everybody usually has vacation, someone thought to organise a series of concerts to bring together interesting programmes and important names of the Romanian music. From this point of view, there are only benefits for the audience. True, at the beginning there were not so many informed people, they did not know what was happening, because there was for the first time when this summer season was organised. But I believe that these Soirées will still be organised, because they are of a real success.
Interview by Andreea Chiselev
Translated by Mirela Oprina and Andreea Velicu
MA students, MTTLC, Bucharest University