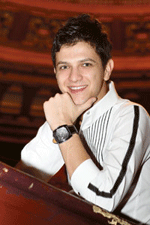 Bogdan Mihai - Count Almaviva at the Opera House in Dresden
Tuesday, 31 August 2010 , ora 10.25

On Saturday, August 29th, 2010, tenor Bogdan Mihai, on stage at the Opera House in Dresden, interpreted the role of Count Almaviva in the production Il Barbiere di Siviglia by Gioacchino Rossini. The performance will be re-run in October and the Romanian artist will be starring. Bogdan Mihai offered us an interview about both his debut at the prestigious German lyrical institution, the production and his role:

Is this your first collaboration with the Opera House in Dresden?
Yes, it is, and I am very happy that I had such an extraordinary debut there with an audience who love beauty and who have supported us. It was absolutely wonderful, the atmosphere was extraordinary, having a great maestro - Alessandro de Marchi, as well as my cast colleagues.

How would you describe the director's vision and in what way does it reflect the artists' acting on stage?
The stage directions send you somehow into the 50s and 60s, signed by Grischa Asagaroff, the great Jean-Pierre Ponnelle's collaborator and I can say that it is extraordinarily challenging and amusing. Both us on stage and the audience had a good laugh. I sing alongside Antigone Papoulkas - a mezzo-soprano from Greece - in the role of Rosina; Figaro was from Korea - Sangmin Lee. In October, when I return to Dresden, this role will be performed by Fabio Mario Capitanucci. Bartholo was Michael Eder - who has a really wonderful and real deep bass voice. We worked extraordinarily from the first rehearsals and we definitely liked to make art together.

You have often tackled the role of Almaviva, both at the Bucharest National Opera House and the Stuttgart State Opera. Could you say that this is a role that represents you?
It is a role with which I started my career and is close to my heart. I love this role, I love Rossini's music and I think that no matter in what opera theatre I might sing, I will be able to add something to it. Practically, Almaviva is a character role based on creation and you have to focus on all the states very well: you are a count in the first act, a soldier - in the second and thus the voice, the behaviour and the lyrics change automatically, I am a priest in the third scene, a music teacher and technically speaking the voice becomes nasal. There are many things that you have to know; how to combine in order to lead the audience to what Rossini's opera buffa really is - a masterpiece in itself.

You are the first Romanian who performed Cessa di piu resistere, Count Almaviva's final aria in our country. Are you going to sing it in Dresden?
No, I'm not. It is an aria that I sang in 2007 when I made my singing debut at the Bucharest National Opera House. It is an extraordinarily difficult and wonderful aria, but it has brought me great satisfaction. I have sung it only at the Bucharest National Opera House so far, but unfortunately, the stage directions of the Stuttgart State Opera do not allow it. However, I will sing it at my debut at Deutsche Oper in Berlin and at the Théâtre du Chatelet in Paris, as well. My opinion, nevertherless, is that Il Barbiere di Siviglia without Cessa di piu resistere is not as glamorous.

What other projects of yours can you disclose to us?
My next performances include the same Il Barbiere di Siviglia, because I am returning to Dresden in October for a series of five more. At the same time, I will sing it at Deutsche Oper in Berlin, under the baton of Garcia Calvo and in December I will be in Stuttgart again, for the third opera season, where I will replay the role of the Italian tenor of The Knight of the Rose. Afterwards, in January, at Théâtre du Chatelet in Paris, there will be another Il Barbiere di Siviglia, under the baton of maestro Jean-Christophe Spinosi and directed by Emilio Sagi. It is the same extraordinary production that has been released on DVD; produced in cooperation with the Madrid Theatre. My list of projects continues with Don Pasquale at the Glyndebourne Festival. There are very many projects, but all in good time.
Larisa Clempuș
Translated by Elena Daniela Radu and Andreea Velicu
MA students, MTTLC, Bucharest University