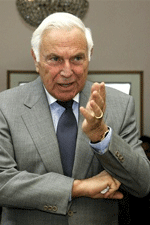 Ioan Holender at the end of his career as manager of the Vienna State Opera
Friday, 3 September 2010 , ora 11.53

'It was with great joy that I came and it is with great joy that I am leaving', Ioan Holender said at the end of his career as manager of the Opera in the Austrian capital, a career which started in 1992. A farewell gala was held in his honour on June 26th 2010 during which fragments from the forty out of ninety-three premières of the Holender 'Era' were performed. Among the guests were famous musicians such as Zubin Mehta, Franz Welser-Möst, Peter Schneider, Antonio Pappano, Fabio Luisi, Plácido Domingo, Diana Damrau, Anna Netrebko, Elina Garanèa, Natalie Dessay, Angelika Kirchschlager and José Cura. We had the opportunity to interview Mr. Ioan Holender and find out details about the time spent at the Staatsoper, as well as his future plans.

If we take a closer look at the nineteen years during which you were manager of the Vienna State Opera, what do you think are your greatest achievements?
The most important achievement is actually the fact that it lasted for nineteen years, because during its 145 years of existence, this institution never accepted someone for more than sixteen years. Therefore, I have outrun the longest managing period with three years as a non-Austrian, as a refugee from Romania, which is rather unique for Austria. This is what I believe is the greatest achievement. I would rather not go into too many details about the performances, if that's what you've imagined. There is one thing I'd like to say: the most important conductor of this period was definitely Carlos Kleiber, especially in Der Rosenkavalier. This is what I consider to be the greatest success of those years. Unfortunately, here there were only three performances and in Tokyo another six, with our ensemble.

Could you tell us a little about your future projects and plans?
I am now working as consultant at the New York Metropolitan Opera and looking forward to the première of Das Rheingold, the first part of the tetralogy. I am also working at the Budapest Opera House, as well as for the Tokyo Music Festival, as consultant for castings, conductors and directors. Of course, I will continue to manage the 'George Enescu' International Festival for which we are preparing the complete Richard Wagner tetralogy to be performed in Bucharest in 2013. I am still a professor at the Vienna University, as well as at the Danube University Krems. I have also been offered a job in television this summer to host a fortnightly show called Cultural Magazine starting with December.

Related to your activity as artistic director of the 'George Enescu' International Festival and Competition, how are preparations for the 2011 edition going?
For 2011 we are ready with all the contracts and projects, except, of course, the changes that might occur during the festival and we are already thinking about the 2013 edition. There are little adjustments to be made for the next edition, twenty years after 1991, which is going to be a rather special one.

In September, you are going to the Republic of Moldova to donate to poor children the money you've received at the farewell gala in Vienna. Why Moldova?
On September 10th and 11th I am invited at the 'Maria Bieșu' Opera Festival. We didn't give a present to the Republic of Moldova, but to the children on the streets. It's the money I received on July 26th at the farewell performance where famous conductors and musicians such as Domingo, Netrebko, Mehta and Pappano were invited and did their performance for free. We donated the €200.000 to the foundation of Father Georg Sporschill for the poor children of Moldova.

You are familiar with the Romanian school of canto. Have you recently discovered any talents that we may not know of?
Yes, at the moment Romania has three extraordinary tenors - like never before in its history -, although we have always had distinguished important musicians. But Bogdan Mihai who is in, Ștefan Pop who won the Operalia World Opera Competition (I was in the judges panel) and Teodor Ilincăi make three tenors. If I add Tiberius Simu who is in Leipzig and is leaving for Frankfurt, we have four, plus the ones who still are in Romania. Our school of canto is still remarkable, even though it is very different from what it was twenty or thirty years ago. Romania has always bred important musicians. The sad part is we still can't make them choose the Romanian institutions as well. The fact that these musicians are known worldwide, but not in Romania too testifies to the sad situation of the Romanian opera houses.
Andreea Chiselev
Translated by Georgiana Mîndru and Alina-Olimpia Miron
MTTLC, Bucharest University