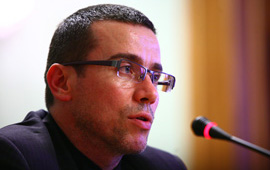 Protocol of co-operation between Radio Romania, George Enescu Philharmonic and the European Radio Broadcasting Union
Wednesday, 15 September 2010 , ora 9.28

On the morning of September 9, 2010, the protocol of co-operation between Radio Romania, "George Enescu" Philharmonic and the European Broadcasting Union has been signed.
The event brought together András István Demeter, President General Director of Radio Romania, and Andrei Dimitriu, General Director of the Bucharest Philharmonic. The official document was previously signed by European Radio Broadcasting Union representative - Pierre Yves Tribolet, head of Euroradio Classics.
The Romanian Radio Broadcasting Company stated that this collaboration is a good reason to celebrate and at the same time, a first step towards other collaborations of this kind. The head of the Philharmonic thanked Mr. Tribolet for his contribution and the institution's Orchestra and Choir musicians that are obliged to improve their performance, according to Andrei Dimitriu.
The partnership between the three institutions means that Radio Romania and the European Radio Broadcasting Union will broadcast a series of ten concerts provided by George Enescu Philharmonic.

András István Demeter (photo), President Director General of Radio Romania states:
"The significance of this collaboration is in the opening. Nowadays, it is not enough to create. I believe it is absolutely necessary that the values created should be offered openly through every possible channel to as many people as possible. So, by this we gain the following: the George Enescu Philharmonic produces values that Radio Romania takes and offers to the European Radio Broadcasting Union. From there, the member countries will make a selection of concerts and broadcast it through their radios. Thus, millions of listeners (from Romania and other countries) will hear these concerts."

The protocol is available until 2013, during three concert seasons.
Irina Cristina Vasilescu
Translated by Andra Stroe and Andreea Velicu
MA Student, MTTLC, Bucharest University