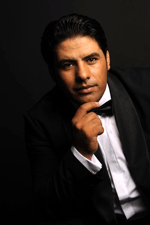 Costel Busuioc talks about his latest album
Monday, 20 September 2010 , ora 12.11

On the September, 16th, 2010, in Târgu-Mureș, tenor Costel Busuioc released his second studio compact disc called "Segundo". Here is what the Romanian artist revealed about this discographic achievement in an interview offered to Radio Romania Music:

"Segundo" is the second compact disc after my career was launched in Spain by the "Hijos de Babel" contest. A very nice team has come together here, in Târgu-Mureș. To me, the dream of producing the second compact disc in Romania, on my own, is a dream come true.

Who did you collaborate with for the production of this album?
In order for this compact disk to come to life, I co-operated with Radio Târgu-Mureș, with the Târgu-Mureș Philarmonic Orchestra and conductor Sebastian Cazan.

How do you appreciate your professional development so far? During this period, do you feel that you have gained more experience from the musical point of view?
I have wanted a break so much. This span of time during which I didn't perform, not even on television and have even refused to make a public appearance, has been like a break to me. I have done this because I wanted to prepare. I can say that I am better prepared now, although it is obvious that there are plenty of things I need to learn until I grow old. I feel much better now in comparison to last year or two years ago when I won that contest. My voice is different, it sounds differently. I am more content at this moment.

Are there any pieces on your new compact-disc that are close to your heart, that you love the most?
They are all beautiful, they are extraordinary. "Parlate piano", for example, the theme from "The Godfather" movie, "Non ti scordare di me" and "Torna a surriento" are only few of the titles on this disk. Then there are the pieces that belong to the zarzuela genre, which are very dear to me. I think that I am the first one to introduce them to the Romanian public.
Ioana Marghita
Translated by Elena Daniela Radu and Valentina Tache
MA students, MTTLC, Bucharest University