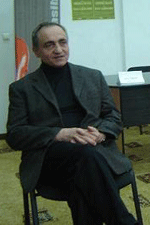 The manager of the State Philharmonic of Sibiu talks about the new season of the institution
Monday, 20 September 2010 , ora 12.15

The 2010-2011 Season of the State Philharmonic of Sibiu opened on the 16th of September, 2010. On this occasion, Mr. Ion Bojin, the manager of the institution, revealed the following to us:

"The new season of the State Philharmonic of Sibiu, our 61st season, started on September, 16 with a symphonycal concert having Austrian Theo Wolters at the conductor's music stand and Luiza Borac as soloist.
What is worth mentioning about this concert is that the conductor, Theo Wolters, leading the orchestra, was appointed head conductor of the State Philharmonic of Sibiu at the start of this season. The collaboration with Theo Wolters has developed auspiciously all this time and thus the artistical comittee of the Philarmonic Orchestra has decided to invite him to continue joining the orchestra of the Philharmonic of Sibiu. He is a well-known personality, a member of the prestigious Concertgebouw ensemble of Amsterdam. At the moment, he is Mariss Jansons's assistant conductor.
For the first part of the season, we would like to offer you the names of some important artists, such as: Luiza Borac and Liviu Prunaru, who will perform in Sibiu in December 2010. The programme offers the music lovers in Sibiu, renown personalities such as: conductors Walter Hilgers from Germany, Tiberiu Soare and Sabin Păutza from Romania; Furthermore, violin players Alexandre Dubach from Switzerland and Vlad Stănculeasa, piano players Ilinca Dumitrescu and Magdalena Tudorova. They will all perform in the first part of the season.
We will also continue the series of educational concerts with the production of the musical story called "A House Filled With Music" by Michael Ruggeberg. This production was performed during the last season as well, but not all the pupils in Sibiu had the opportunity to attend, so that is why we continue the presentation of this story this autumn, too.
Towards the end of the season, the first concert of the Philarmonic Orchestra of Sibiu will be held at the Romanian Atheneum in Bucharest , as part of the Young People for Young People project,initiated by the George Enescu Philarmonic. We received the invitation to join this project and we were happy to attend.
Ioana Marghita
Translated by Elena Daniela Radu and Valentina Tache
MA students, MTTLC, Bucharest University