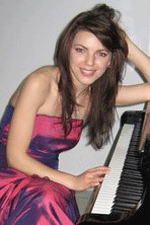 Ana Cebotari -on the stage of the Romanian Athenaeum
Friday, 24 September 2010 , ora 9.00

The soprano Ana Cebotari and George Enescu Philarmonic Orchestra performed on September 22nd, 2010 at The Romanian Athenaeum, under the wand of the conductor Jin Wang, as part of the series Musical Evenings in Bucharest organized by The "Lanto Arte" Cultural Association. The program consisted of various Italian arias and overtures signed by Gioacchino Rossini, Giuseppe Verdi and Giacomo Puccini.
Ana Cebotari, the soloist of the evening, spoke about the concert in the following interview:

Was this your first collaboration with George Enescu Philarmonic Orchestra ?
Yes, it is an honour and a new beginning in my career. This is why I have high hopes for this show. I have already had two meetings with maestro Jin Wang and I have had so many interesting things to learn from him. I feel honoured to have him around. I have noticed that the members of the Orchestra liked me and this gave me strength.

How would you describe the program of the Musical Evening at the Athenaeum ?
For me it is a challenge, a very beautiful and difficult program at the same time. Violetta's aria from the opera "LaTraviata" by Giuseppe Verdi is, for example, one of the most difficult soprano arias, but I believe that I will rise up to the expectations. Moreover, we had to choose something different and beautiful for all the various listeners. This is why the entire repertoire is composed of very well-known arias.
Interview by: Larisa Clempuș
Translated by Țone Monica Cristina and Elena Daniela Radu
MA students, MTTLC, Bucharest University