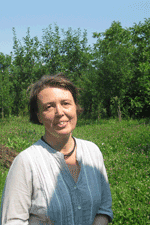 The first portrait of composer Adina Dumitrescu in the capital city of Finand
Tuesday, 12 October 2010 , ora 12.43

The musical scene of Helsinki has offered
Adina Dumitrescu
a first portrait as a composer: an event for the capital city of Finland, as well as for the composer's own biography, the recital included seven duets from the composer's own work and had taken place on October 9
th
2010 at The Jean Sibelius Academy in Helsinki.
More information on this event, as well as the impression the Finnish musicians have about the composer are to be found in the following interview :

What does this event mean to you and how is the programme?
It is the first portrait as a composer that I received in Finland and in my career as a composer. I have divided it into seven duos - I wish they were more diverse, I wanted to create a special concert, not only a simple series of works ; but since I had so many duos in my work, I thought to combine them altogether.

Which was the criteria for the instrumental work and how is the message of your works transmitted , from the playful game of the instruments' sounds?
I had already several works: two for violin and cello, one for violin and small clarinet and one for kantels and bass clarinet, that were suitable for the instrumentalists I considered. The Kantels is a traditional Finnish instrument, brought into the spotlight in the last years and which is the subject of a lot of writing material nowadays.

How was your collaboration with the Finnish instrumentalists?
It was very good. They are extremely serious, hard working and they try to understand the score as if they were the composer.
Alexandra Cebuc
Translated by Monica Cristina Țone and Andreea Velicu
MA Students, MTTLC, Bucharest University