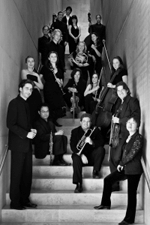 Jakobsplatz Orchestra of Munich on Tour in Romania
Wednesday, 20 October 2010 , ora 9.13

October 13th–17th, 2010, Jakobsplatz Orchestra of Munich was on tour in four cities in Romania, the Republic of Moldova and Ukraine. The ensemble founded in 2005, upon the initiative of conductor Daniel Grosmann, is made of musicians from twenty-three countries and has in its repertoire seldom performed works of some Jewish composers, as well as modern and contemporary music.
After its first tour in Israel in 2009, the ensemble decided to visit in October 2010 the following cities: Iași, Bălți, Chisinau and Odessa, having Tanja Becker-Bender as violin soloist. The programme: Sinfonietta Op. 1 by Benjamin Britten, Violin and String Orchestra Concerto by Felix Mendelssohn, overture to the opera La belle Hélène (The Beautiful Helen) by Jacques Offenbach, Der Dämon (The Demon) by Paul Hindemith, as well as an absolute premiere: Capriccio by Boris Dubosarsky.
I have gotten more information from an interview with the artistic director of the orchestra, conductor Daniel Grossmann.

How has it started, the idea of going on tour in Romania, the Republic of Moldova and Ukraine?
Our orchestra comprises several instrumentalists from Moldova, among them there is a lady violinist who had this idea last year, while we were on tour in Israel. Then the idea of an extended tour came, a tour to include also Romanian and Ukrainian cities.

Which are your expectations related to this tour?
We will have concerts in countries where, I believe, there are not too many orchestras comprising foreigners and we are eager to see how the audience will respond to our presence there.

For the concert in Iași your programme includes works by Mendelssohn, Offenbach, Britten and Hindemith. How were they chosen? Have these composers a particular significance for you?
Yes, they have to a certain extent, because our orchestra comprises Jewish musicians, but not exclusively. The ensemble is focusing especially on works of some Jewish composers or works related somehow to Jewish culture. This programme started also from there. Of course, Britten has less to do with Judaism; we have chosen him because 20th century's repertoire is one of our scopes.

During your two concerts in the Republic of Moldova you will also perform a work of composer Boris Dubosarsky in absolute premiere. Could you please tell us more about it?
It is a Capriccio for Unaccompanied Trombone and Small Orchestra, within which the composer processes Jewish themes, Klezmer, a work of about 10 minutes.

How have you chosen violinist Tanja Becker-Bender as soloist for this concert?
Two years ago I led the Violin and Orchestra Concerto by Kurt Weill, having her as soloist, and I was impressed by her performance. We get along very well in music and as persons, so I have decided to invite her to participate in this tour.

Which are you following projects?
At the beginning of the next year we will work with Bayerische Staadtsoper for an opera co-production for two months. It is about two small operas, which we will present in Munich.
Andreea Chiselev
Translated by Mirela Oprina
MTTLC, Bucharest University