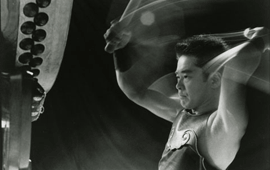 The most famous Taiko soloist – Eitetsu Hayashi in concert at Sala Palatului
Wednesday, 20 October 2010 , ora 12.25

Eitetsu Hayashi, the Japanese drum soloist is holding two concerts with the George Enescu Philharmonic Orchestra in Romania. The first concert is scheduled for the 20th of October 2010 at the Palace Hall in Bucharest and the second will take place on the 23rd of October at Thalia Hall in Sibiu.
The program will begin with works such as Romanian Rhapsody no. 1 by George Enescu, fragments of the Mihai Viteazu suite by Tiberiu Olah or the Hora Staccato by Grigoraș Dinicu, followed by the Hi-Ten-Yu Japanese drums and orchestra Concerto, written by Isao Matsushita in 1993, and the Taiko Solo.
Here is the statement made with this occasion by Mr. Claudiu Stanciu, the spokesperson of ARTmania, the Foundation that organised the event:

Where did the idea of organizing a Japanese drum concert in Romania come from?
The idea came from an earlier connection of the ARTmania organizer with the Japan Foundation, which encourages the promotion of the Japanese culture in Romania, and Eitetsu Hayashi was the person chosen for this project, as he is the most well known Japanese drum soloist in the world.

How did you come to collaborate with conductor Horia Andreescu and the "George Enescu" Philharmonic?
The choice was easier than it seems because they are the most respected artists in Romania and maestro Horia Andreescu is the best conductor in our country.

The program includes both a Japanese drum and orchestra Concerto by Isao Matsushita as well as works by Romanian composers. How would you describe this combination?
The combination can be described starting from the title of the event, Great Meetings. These great meetings take place between Romanian and Japanese artists and by following this direction we divided the program into the two sections.
Andreea Chiselev
Translated by Dana-Mihaela Toma and Andreea Velicu
MA Students, MTTLC, Bucharest University