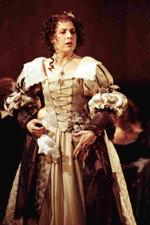 Mezzo-soprano Liliana Mattei at the Opera in Dijon
Wednesday, 20 October 2010 , ora 13.00

Mezzo-soprano Liliana Mattei played the role of Suzuki in Giaccomo Puccini's Madame Butterfly opera, in five performances at the end of September 2010 and beginning of November 2010 at the Opera in Dijon. In director Jean-François Sivadier's production, having as conductor Pascal Verrot, the mezzo-soprano got on stage alongside with other international vocalists as soprano Tatiana Monogarova, tenor Giancarlo Monsalve or baritone Amando Noguera.

We had the opportunity to find out what the impressions were after the Dijon performance from an interview with Liliana Mattei:
I came back from France, after a magnificent assembly of the Madame Butterfly opera, at the Opera in Dijon. I can say this is one of the most adored by music fans of Puccini operas. Everywhere I have played Suzuki's role, namely at the Opera in Timisoara, in France in 2004-2005, numerous times in Vienna and this year in Madrid, this opera was a complete success. The same happened now. We received a warm welcome from the Djion audience. I want especially to mention the direction of the exceptional actor and playwright, Jean-François Sivadier. Precisely under the empire of theatre, the show was created defying the conformist, classical manner of the original Japanese style. Everything was extremely verbally graphic, we could underline each musical phrase using word and I think in this way a show was born, where we, the artist actors, were above all, masters juggling with an unbelievable pallet of vocal colours and touches. You can rarely see these kind of shows, where the singers are first of all actors.
I can say the director knew how to train and get the best out of us, from an interpretative view. Conductor Pascal Verot proved an extraordinary finesse and guided us with regard to interpretation. Alongside international vocalists like Monogarova (Cio-Cio San), Giancarlo Monsalve (Pinkerton), Armando Noguera (Sharpless), we were able to enjoy a truly out of the ordinary staging.

Where could we hear you in the near future?
On October 24th I will be playing the role of Amneris from Aida, at the Opera in Timisoara, along which we are leaving, on the first of November, on a twelve show tour in Holland, then in December I will be performing the work Enchanted Love by Manuel de Falla with the Philharmonic a Orchestra from Sibiu. In January I'm taking part in a new production of the Troubadour by Verdi at Teatro de Madrid and also there I will be performing again in Madame Butterfly. In February and April 2011 I will be performing Carmen, in Bucharest.
Andreea Chiselev
Translated by Bianca Dumitru and Andreea Velicu
MA Students,MTTLC, University of Bucharest