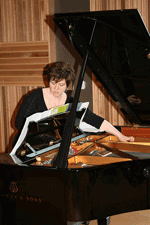 Christian Badea and Dana Ciocârlie in Concert Alongside the Gulbenkian Foundation's Orchestra of Lisbon
Wednesday, 20 October 2010 , ora 10.42

On October 7th and 8th, the Orchestra of the Calouste Gulbenkian Foundation gave a concert under the baton of conductor Christian Badea and having pianist Dana Ciocârlie as soloist. The programme featured the Fanfare for the Common Man by Aaron Copland, Leonard Bernstein's Symphony No. 2, and Antonin Dvoűák's Symphony No. 7.
We learned more about the programme of the concerts and the Gulbenkian Orchestra from an interview with Risto Nieminen, Director of the Foundation's Music Department.

Where did you get the idea to include two musicians of Romanian origin in these Lisbon concerts and how did you choose the programme?
We were planning to perform Leonard Bernstein's Symphony No. 2, and we were wondering, together with conductor Lawrence Foster ‒ our Artistic Director ‒ who could be the most appropriate soloist and conductor. Lawrence Foster had already conducted this musical piece in another city, with the participation of pianist Dana Ciocârlie, so the choice was obvious. We had had a previous contract with Christian Badea as well, he had conducted our orchestra some years ago, and we wanted to invite him again. We knew that conductor was a good choice as he had also worked with Bernstein. The second part of the concert, Antonin Dvoűák's Symphony No. 7, was Christian Badea's choice. In what regards Bernstein's symphony, we will be presenting it in Bucharest as well, under Lawrence Foster's baton, within the 2011 edition of George Enescu International Festival. Thus, these concerts were also a chance to familiarize the orchestra with this work.

What was the reaction of the audience after the first concert?
The audience were very enthusiastic although we did not have a full house as the programme was not a popular one. The orchestra performed well, and the collaboration among the ensemble, the conductor, and the soloist was also very good.

Next, I would like us to talk about the orchestra of the Gulbenkian Foundation. What are its main objectives?
It is an international symphonic orchestra, whose music season takes place yearly from September to June and includes two concerts a week, on Thursday and Friday. It is an international orchestra also because, alongside the Portuguese musicians, it is made up of representatives of another fourteen nationalities, including Romanians. I came here a year ago and I noticed that the level of the orchestra was very high. I consider it one of the best orchestras in Southern Europe. This is proven by our frequent international tours, including our participation in the famous George Enescu International Festival, held in Bucharest, in September 2011.
Andreea Chiselev
Translated by Cristina Firoiu and Andreea Velicu
MA students, MTTLC, Bucharest University