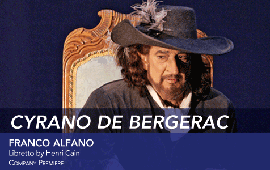 Cyrano de Bergerac, directed by Petricã Ionescu, at the San Francisco Opera
Tuesday, 16 November 2010 , ora 9.11

The San Francisco Opera poster featured at the end of October and the beginning of November 2010, Cyrano de Bergerac by Franco Alfano, composed to the libretto by Henri Cain. The direction and the scenography were signed by Petricã Ionescu and tenor Plácido Domingo was in the title role. In the distribution of the performance directed by Patrick Fournillier were also Ainhoa Arteta (Roxane), Thiago Aranca (Christian de Neuveville) and Stephen Powell (De Guiche). After its premiere in 2009 at the Théâtre du Châtelet in Paris, the performance was mounted for the first time on the stage of the San Francisco Opera on October 24th 2010. I learned other things on the conception of the performance, on working with Plácido Domingo and other projects, during the interview granted by the director Petricã Ionescu.

Mister Petricã Ionescu, given the popularity of the topic, how would you describe your direction vision on the work Cyrano de Bergerac?
It is a character overflowing with passion, a sponge that squeezes only love. My vision is more theatre within theatre. The first scene, Hotel de Bourgogne, which we know it belonged to the French comedy and Molière's, was in that period only of the famous 'Montfleury' - Zachary Jacob, an actor famous for his tirades, which made half the audience faint, especially women. They entered in a sort of coma, that lasted 40 minutes each time, he paused until they came back to their senses; these are events from the theatre history. At the beginning of the play, Cyrano comes back and interrupts a scene of Montfleury, we are in the middle of the performance, so the vision theatre within theatre goes on. The scene framework stays during the entire performance, the décor is being mounted in sight and we are under the impression that it is happening on the theatre stage, that it is a manipulation. Cyrano is, like Pirandello, at the same time, the author and the interpreter of his creation. He manipulates the other main characters, Roxanne and Christian, who think they live a great passion, a great love. In fact, all these are his literary and direction creations. At the end, we get lost in a sort of illusion, we do not realize if the theatre is more powerful than life or life is more powerful. In fact, the entire performance is an initiatory journey, on the theatre and the passion facets, self-giving, suicide, mysticism, love etc. Women love very much the performance and they cry when it ends, so this is the atmosphere in a nutshell.

The title role belongs to Plácido Domingo, as in the premiere in 2009 in Paris. What can you tell us about the cooperation with him?
He is a phenomenon; he is the eternal seducer, full of energy, even too much exuberant. He is on two-three continents at least at the same time. He is a real leader, he is a voice, and a musician who I do not think has had peers among the latest great musicians left. As we know, Domingo is also a great orchestra director. He understands the meaning of things and, if you feed his character, he has an incredible speed. A man who has many admirers around him, with an exceptional magnetism, he knows how to juggle and to weave all these seduction relationships with everybody. He is growing more courageous in his acting, in my opinion. In order to play Cyrano character for his age, an extravagant, strange, eccentric, challenging character, one has to have an exuberant energy, much humour, much finesse. Otherwise, he is in love with Cyrano and the performance resumes at Los Angeles, at Madrid, at Hong Kong, he has a life even after Paris and San Francisco, this due to the audience as well. At the last performance, Cyrano de Bergerac in Paris there were 52 minutes of 'standing ovation', this has never happened before. I think the audience is saying goodbye as well, in a way. It is true he has not been in Paris for ten years, for around six years in San Francisco, he played only during concerts or all kinds of galas. He has not interpreted a role on the stage for a long time, so all his admirers are shocked and happy. And, moreover, he is a man of an incredible generosity and full of zest and humour.

You were talking earlier about future settings of this performance. Would you like to tell us about some other projects you are working on?
In the following three years I shall play this Cyrano at Madrid and Hong Kong, there is a project also for Tokyo. I am writing a book of 900 pages, I have written 200 pages so far. Flying Duchman by Wagner at San Francisco, conducted by Patrick Summers, I am crazy about him and I think that he is the best for this kind of music. I shall try to make a film, a Turandot 'from Inferno', a burlesque comedy, taking advantage of the Metropolitan Opera tour from New York in Paris. In Italy, at Cagliari, I shall set up Violanta and The Dead City, works of a less known composer but an absolute genius, Erich Wolfgang Korngold. At Valencia, another production with Tokyo, a performance written by Frédéric Chaslin, artistic director at the Opera in Santa Fe, a much appreciated orchestra director. These would be my future projects.
Interview made by Andreea Chiselev
Translated by Zenovia Popa and Andreea Velicu
MA students, MTTLC, Bucharest University