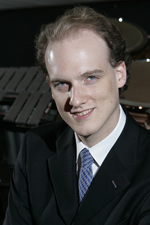 'I think Alexandru Cadmiel Boțac has all the qualities to have a brilliant career'
Wednesday, 9 February 2011 , ora 12.44

At the beginning of February 2011, Cadmiel Alexandru Boțac, a 14-18 years category laureate at the National Piano Competition in November 2010 within Lipatti Days organized by Radio Romania Music, hold a recital at the invitation of His Excellency, the Ambassador Vlad Alexandrescu, in the Auditorium of the Conservatory in Luxembourg. The young pianist also benefited from a lesson with one of the most appreciated piano professors of the Luxembourg Conservatory, Mister
Jean Muller
who gave a short interview at the end of the lesson with Cadmiel Alexandru Boțac:

Mister Jean Muller, you provided the young pianist Alexandru Cadmiel Boțac some important and useful professional advice. Which are the opuses he interpreted and you listened to?
I had the pleasure to listen to Cadmiel during the recital he held at the our Luxembourg Conservatory. He played Beethoven, Chopin and a work of a Romanian composer, Silvestri, and I have to say I was very impressed with his talent and maturity; he is only 14 years old, but he was able to hold an entire recital with no problems, which is impressive. For the working hour I chose'Pathétique' Sonata by Beethoven from Cadmiel's repertoire, because he is one of my favourite composers and I thought I could teach him many things about this. His interpretation seemed very clear and precise, although I felt Beethoven's sonata could have had much more volume. So I have tried to send him this idea and he understood immediately.

So, from your point of view, the Romanian young pianist has an artistic future?
I think he has all the qualities to have a briliant career. As a matter of fact, I hope he will succeed in doing so in spite of numerous competitors. Cadmiel has an exceptional talent. Especially from the musical point of view, because there are enough pianists today who only move their fingers; he has also the quality of listening, which is extremely rare. We should grant him all our support.
Irina Cristina Vasilescu
Translated by Zenovia Popa and Elena Daniela Radu
MTTLC students, Bucharest University