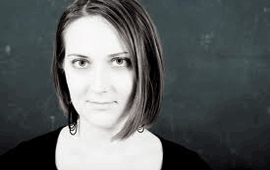 The composer Diana Rotaru at Winterthur
Wednesday, 20 April 2011 , ora 11.22

'I found myself as an author in an ideal situation, in that my music was presented actually perfect'
The young composer Diana Rotaru - owner of some important distinctions, among which the Romanian Academy's 'George Enescu' prize awarded in 2008 for the work Hypnosis - is, in April 2011, composer-in-residence in the Swiss city Winterthur. With this occasion, two portrait-concerts have been organized, in which her opuses have been exclusively presented.
The interview we took Diana Rotaru through telephone will be presenting the details.

During this month you are in Winterthur, at the invitation of the Tag ensemble. Tell us how it came to this invitation and what you are doing there, in Switzerland.
I am at the Sträuli Villa from Winterthur, where a cultural project that offers assistance to artists is in progress. There are three marvellous studios and, besides the accommodation, we also benefit from an excellent creative place, taking into account that Winterthur is a superb city and very quiet. The artists also have the opportunity to present their creations. In my case, it was a presentation of what I composed, with the participation of the Tag ensemble. How I got to the Sträuli Villa? With the help of an admirable pianist, Simone Keller who is a member of the Tag ensemble, and with whom I have also workedin the past and who recommended my music to the other members of the ensemble. It seems that they enjoyed my music and they invited me to this portrait-concert. The Tag ensemble has played my works on the 10th of April too, when I was surprised to find a big audience at the Am Gleis Theatre, institution to whicht this ensemble belongs, and on the 19th April the concert was repeated almost entirely. In this concert I presented the contemporary Romanian music in general and my own works.

Which works were presented in this last concert?
The Tag ensemble played Enter no Silence, a work composed especially for the members of the ensemble and the soprano Irina Ungureanu, an excellent artist, who was also a guest at this concert. The program also included a clarinet work, Meander, a flute and piano work entitled Play and a small lied cycle, Soresciana, interpreted also by Irina Ungureanu.

Do all these works have a uniting element?
The title of both concerts is linked to Marin Sorescu's poem The Sea Shell - it is about the enclosure of an artist in a sea shell. The works are not necessarily linked to a common idea; they are stories, with narrative music, and even with small, hidden theatrical elements. I had the occasion to work with some fascinating artists, and I found myself as an author in an ideal situation, in that my music was presented actually perfect, exactly as I had wished, as I had imagined it would sound like. I do not think that a composer could wish for anything more.

Are you presently working on a new piece?
Yes, during my stay I already composed a piece for two flutes and another work is soon to be written, a request from a Spanish four instrument ensemble. In Winterthur, from my point of view, there is a creative medium that is absolutely perfect for a composer.
Ioana Marghita
Translated by Izabella Feher and Laura Bosnea
MTTLC, Bucharest University