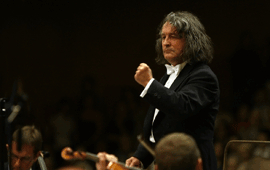 Radio Romania for the Children in Japan
Tuesday, 28 June 2011 , ora 11.07

Under the name of Giving Back Hope, Radio Romania Music organises on Wednesday, June 29th 2011 a humanitarian concert for the victims of the catastrophe which took place this spring in Japan. The Radio National Orchestra conducted by Horia Andreescu is to perform works by Bedűich Smetana, Aleksandr Borodin, Mihai Moldovan and Sabin Păutza. The Radio Children's Choir led by Voicu Popescu as well as the Radio Academic Choir trained by Dan Mihai Goia are also part of the performance. The funds raised by the selling of tickets will be used to organise a ten-day holiday in the Danube Delta, the Black Sea and the north of Moldavia for a group of children from Japan. Radio Romania Music is to broadcast live the concert on June 29th starting 19:00.
Here are some thoughts of the protagonists of this concert:

Horia Andreescu:
The artists can help in their own way. Of course there are children all over the world including our country that need help. This kind of concert is often performed worldwide. I wanted these tickets with special price to raise enough funds to organise a trip to Romania for a number of Japanese children from the affected areas. This way, they will be able to become familiar with our country and take enough photos (just like every Japanese tourist) to remember their holiday.
The first part of the program includes soloist Dan Grigore who is to perform Ludwig van Beethoven's Concerto No. 5, 'Emperor' followed by a sweet short children's choir and a performance of Sabin Păutza's songs which I am to conduct. The next part includes Smetana's Vltava and Borodin's Polovtsian Dances for choir and orchestra. It's like a crescendo of accessible beautiful works which bring harmony and peace, a concert especially organised by the Romanian Radio Broadcasting Company for those who paid for it but did not have time to attend it as well as for music lovers who work until late in the evening but can listen to the radio.

Dan Mihai Goia:
I very welcome this idea of maestro Horia Andreescu, as it is beautiful and of great spiritual and artistic noblesse. To perform for people who have suffered physical and psychological trauma is very noble coming from the artists all over the world. I have witnessed many similar tragic moments both European and international and every time we performed with great emotion, our thoughts and feelings filled the concerts.
Therefore, we are glad to collaborate with maestros Horia Andreescu and Dan Grigore, great artistic personalities as well as with the Radio Children's Choir and my friend Voicu Popescu. The Radio Academic Choir is to perform in the end of this humanitarian concert. We are also happy to perform again one of the works belonging to the Eastern culture, namely the Polovtsian Dances from the wonderful Prince Igor opera. It is the sixth or the seventh time we have performed in ten years so every time we perform it, we are enjoying it even more, we live it even more intensely.

Voicu Popescu:
Being involved in this project is actually a tradition. In 1974 the Radio ChildrenŽs Choir visited Japan for the first time and performed very good concerts. For instance, in 1991, during our third tour in Japan, we had no more halls with less than 1500 places – the largest one was an acoustics one and had 3000 place. So we had a very close contact with the Japanese audience as well as with choral ensembles. When we started this project, we put everything in it and together with maestro Horia Andreescu we scheduled a mini-program that would attract the audience but also show our involvement in this tragedy that hit Japan. There was an a capella moment with Mihai Moldovan's work Oșeneasca as well as two fragments from Sabin Păutza's Canti Prophani suite alongside the Radio National Orchestra.

Translated by Georgiana Mîndru
MTTLC, Bucharest University