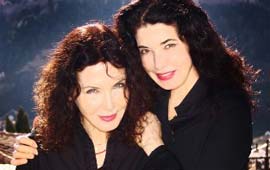 Katia and Marielle Labèque, a single spirit in two bodies
Wednesday, 31 August 2011 , ora 12.39

Talking about Katia and Marielle Labèque is like talking about the same person that has divided into two internationally recognized pianists. We would have liked to conduct an interview with each of them. But Katia told me it was pointless, because she could give me the same answers as her sister would have. In the interview that follows, she only rarely uses the first person singular. They have developed their career together and they preside over a foundation meant to increase the popularity of classical music among young people. They live in sunny Italy, but their style of playing has borrowed a little from every place they have visited. Katia and Marielle Labèque, a family on stage in a single lifestyle, which is music.
Are you always on stage together with your sister or do you occasionally perform separately?
It happens very rarely that we perform separately. I am part of a modern music band, which includes electronic instruments. Marielle has chosen not to be a part of this band; she is interested in contemporary music, but not as much as I am.
Nevertheless, I repeat - it happens very rarely that we perform separately, 90% of our activity is carried out together.
In the e-mail I received, in which we were planning this interview, you suggested that we do it in English, French, Italian or Spanish. Knowing so many languages means knowing as many cultures. How does this knowledge reflect in the way you play?
The fact that we grew up on the Basque coast, which is situated at the border with Spain, has left its mark on us; the fact that we live in Italy, which is our mother's homeland, also has a strong influence on us. The fact that we have travelled to the United States of America and to England has formed us. Today, with the increase of information, with the Internet, our cultures develop differently.
How does the Italian culture, for example, reflect in your manner of playing?
Through imagination, fantasy, but it's difficult to describe everything in two words. These things are inside us, we were cradled by the music of Verdi, Puccini, all the music that our mother adored. Furthermore, we actually live in Italy, so their culture is decisively reflected in our lifestyle, in our culinary habits. The sun and the heat are also elements that influence us and that are very important, at least for me - I have never lived in Northern countries, exactly because it's too cold for me there.
And since we have glided into this conversation, how does the French spirit manifest itself in your manner of doing music?
My mother was a student of Marguerite Long, who, in turn, was a friend of Gabriel Fauré, Claude Debussy, Maurice Ravel. Therefore, despite the fact that Italian music was very present in our childhood, we started to study the piano with works by Debussy and Ravel, not Schubert or Mozart. The refinement and the abundance of harmonies of this music - Ravel is a genius of orchestrations, while Debussy has revolutionized the world of music - have represented an important component in our training and our musical culture.
Have you ever used your privilege of being the older sister when interacting with your sister Marielle?
No, on the contrary, I was very protective of Marielle. Anyway, the difference in age between us is very small. But I took care of her very much. When we were studying in Paris, I used to go with her on the underground and assist at her classes. I was like a mother to her, because we were by ourselves in Paris. This relationship is reversed today, now Marielle is the one who takes very good care of me, she prepares my meals, because oftentimes I forget to eat (she laughs). Anyway, we've divided our tasks very well.
Let us now focus our attention on the concert you will give within the George Enescu Festival. You and your sister will be accompanied by the Camerata Salzburg ensemble. Is it the first time you will be collaborating with the prestigious orchestra?
Yes, it will be the first time. We've talked about playing with them many times, but we haven't been able to yet. So we are delighted to perform together with the Camerata Salzburg for the first time in Bucharest, which is a magnificent city that we already know. We have played here a few times before.
What impression does George Enescu's music make on you?
He is a magnificent composer, but I haven't played anything he has composed yet. As far as I know, he hasn't composed anything for two pianos, and my sister and I have been playing together for the last thirty years. Thus, I haven't had recitals in which to play solo musical pieces. However, he is, of course, a magnificent composer.
Petra Gherasim
Translated by Oana Badea and Mihaela Dănăcică
MTTLC, University of Bucharest