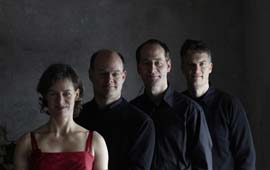 Bernhard Schmidt about the Mandelring Quartett
Wednesday, 31 August 2011 , ora 13.08

The Mandelring Quartett is very appraised at the moment. For the past twenty years that they have been playing as a quartet, the three brothers Schmidt on the violins and cello and the violist Roland Glassl have been traveling around the world, performing the most familiar works of the genre, as well as ones completely unknown to the general public. For the first time in Bucharest, they will perform Enescu and Ravel quartets, as well as Alphonse Stallaert and Leon Stein quintets with saxophone, together with the British saxophonist Amy Dickson. Bernhard Schmidt shared more with me about the Mandelring Quartett, their repertoire, and what he finds fascinating about George Enescu.
How was the Mandelring Quartet founded?
As I mentioned before, three of the group's members are siblings - the two violinists Sebastian and Nanette Schmidt and I - the cellist - are brothers. So there was just one person missing to complete the group.
Music has always been part of our family - our father was a music teacher, and our mother played violin, not professionally, but she was talented nevertheless. We therefore grew in the spirit of chamber music. We liked doing this on our own, so we started pretty early, around seven or eight years old, playing in trios with piano and soon afterwards in string quartets. All three of us liked this repertoire. We have always thought that it would have been wonderful to make a profession out of our calling and our inclinations. We were lucky to have wonderful teachers at Karlsruhe Music School, so our aim was to become musicians, and our dream, to be part of a string quartet. We were then lucky to find a very good manager and win some competitions.
Our career started in 1989 and we have been growing ever since. The forth member completed the group in 1999, he joined us as soon as he finished his studies in the United States. We are enjoying this special way of playing that brings a big responsability for each of us. Compared to an orchestra, in a quartet one has 25% of the responsability of success, there is no conductor in charge. Maybe one of the biggest advantages is having a wonderful repertoire at hand. Most composers dedicated their most beautiful pieces to the string quartet - Schubert, Brahms, Mozart, Haydn... We have been playing for thirty years and we are still left with many works that are waiting for us.

You are performing with the saxophonist Amy Dickson. Is this the first time you're working with her?
It is the first time we're working with her, we met this Spring when we were performing in London, and it was then that we also rehearsed for the first time these two quintets with saxophone that we are interpreting in Bucharest. This two pieces are not common repertoire for a string quartet, but it's... fun to play with a saxophone because it's a very beautiful combination.

Your programme includes, besides Ravel and Enescu quartets, these two
Alphonse Stallaert and Leon Stein quintets. What are the difficulties that these pieces present?
We should mention that this is 20
th
century music, it does not use a very complicated technique or elements that have been invented in the last twenty years. We can say that it is modern and classical at the same time. One of the works has something of Schoenberg's music, and the other of Shostakovich's or Bartok's. It's rythmic music, funny on some passages, all one needs to do is know the works, feel the music. In London we only had two days to rehearse the works, but it was enough for us to realise that this music is not hard to grasp, to feel what you want to do. Playing with Amy Dickson was very pleasant.
Therefore I can say that there were no considerable difficulties. There are all kinds of problems that appear when you include a new piece in the repertoire, but in this case I could say that it was a very pleasant experience.
You performed Shostakovich's
Complete String Quartets
this Summer. How do you switch from Shostakovich's music to Enescu's? Are there any simmilarities between the two composers?
It's not easy to find a link between the two. One of the difficulties in Enescu's music is that one needs some time to get to grasp its substance, as opposed to Shostakovich's music. When you're playing Shostakovich for the first time you instantly feel many emotions the composer tried to convey. This aspect makes Enescu's music more advanced, meaning that the link between the emotions and the composition is not direct. One has to search for it more thoroughly, and that's not the case with Shostakovich's music, that's why I find it easier to perform.
Petra Gherasim
Translated by Mihaela Dănăcică
MTTLC, Bucharest University