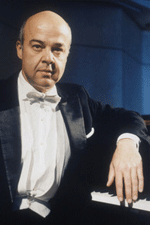 Interview with Pianist Alexander Toradze
Friday, 9 September 2011 , ora 15.53


Master Alexander Toradze, we are honored to hear you in Bucharest. Is this your first encounter with the Romanian public?
A long time ago, probably 28 years ago or more, I visited Brașov and other cities in Romania, but I have never held a concert in Bucharest until now. Therefore, I have returned after a long lapse of time. I am looking forward to meeting the public in Bucharest, but also master Gergiev and the exceptional orchestra of the Mariinski Theatre.

You will be performing the music of Aleksandr Skriabin, illustrated by his poem - Prometheus. You have recorded this piece accompanied by the orchestra of the Mariinski Theatre, conducted by Valeri Gergiev. Is there a story behind this piece?
The piece is inspired by mythology- Prometheus is the hero who stole the fire from Zeus and brought it to the people, reason for which he was chained on Mount Caucasus and tortured. In essence, the legend tells the story of the light and warmth of the fire brought to humanity. As you know, Skriabin did not create a concert, but a symphony, a preamble of a poem volume and of the gigantic project named Misterium... a happening - show - meant to unfold throughout seven days.... Of course, his ideas were futuristic and it is important to notice how far the imagination of this artist went. Everything sounds amazing, but he had everything planned to the last detail, with complete sketches and drawings and directions for the development of the show. He knew exactly where each musician would be placed in this enormous space, where the chorus would be situated. For the first performance of the Prometheus poem, in Amsterdam, he required a choir of 600-700 voices, which is now optional on the score. This is, in a nutshell, the story of the piece.

I am sure our public will appreciate this introduction into Skriabin's universe and will enjoy learning about the less familiar aspects…
I'm sure they will. The music is what matters here and, of course, the orchestra of the Mariinski Theatre and Valeri Gergiev are very close to Skriabin's work, closer than anyone else.

An amazing conductor - Valeri Gergiev, and an extraordinary orchestra - the orchestra of the Mariinski Theatre. Where do they find the magic with which they put a spell on their audience?
Their force is rooted in the core of the Russian culture. Just imagine - Prometheus was written a century ago. 101 years ago, to be more exact. It was written in 1910. If we are to remember what was going on at that time in the Russian music, we will discover at least 20 masterpieces, written by Skriabin, Stravinski, Rahmaninov and Prokofiev, and if we are to talk about the 19th century, we will never end this interview. Therefore, the force of this company is rooted in the depths of the Russian culture, not just the music…but the literature, poetry, theatre, ballet…the information is absorbed by each member of the choir from the moment they are born and is then shared with the public. They are capable of re-creating this special atmosphere. Then, there is the ability to persuade, which is reflected in their interpretation. But each of them would express himself in a hectic manner but for a great leader such as master Gergiev, who has been leading his orchestra for 30 years now - and also other orchestras - and who concentrates energies wherever he may be.

Master Alexander Toradze, you are a guest of the Enescu Festival. Are you familiar with the work of the Romanian composer and have you ever included it into your work?
I am very familiar with Enescu's work, but, unfortunately, I haven't been able to perform it on a regular basis in the last decades. Enescu, but also Romanian music in general, is very close to my heart and I will surely pay more attention to it.

What are your main projects for the near future?
I will finish recording the Șostakovici concerts, along with Master Paavo Järvi and his orchestra from Frankfurt. This would be my first project. After that, master Gergiev and I plan to record Stravinski's piano pieces, but also, other orchestra pieces that involve the piano. My first project will be Piano Concerto No. 1, by Bartok, then the others, which I am currently studying.

Master Alexander Toradze, if I may put it this way, your first love is concerts with an audience, but the second is your educational activity. You are a professor at the University of Indiana.
It's actually hard to tell which is my main impulse - probably being a performer is the dominant one, by it goes hand in hand with the teaching activity, which is also a passion. Cicero once said that "in order to teach others, you must first be taught yourself". Actually, when I teach, I also learn a great deal about music, but also about myself, about performance.
Interview by: Alina Velea
Translated by Laura Bosnea and Oana Badea
MTTLC, University of Bucharest