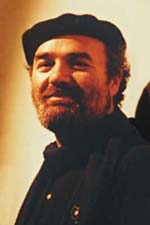 New Recording Achievement for Musician Nicolas Simion
Thursday, 1 September 2011 , ora 16.22

Recently, a new record, signed by saxophonist and jazz composer Nicolas Simion, was released. The album, named Balkan Jazz, was recorded in 2004 and contains ten pieces composed by Nicolas Simion and arranged by Bill Dobbins, pieces combining modern jazz with folkloric elements. Transylvanian Dance, Hommage a Anton Pann, Balkanella or Mioritza are just a few of the recorded works, along with the Big Band of the Cologne Radio, directed by Bill Dobbins.
Nicolas Simion has revealed some detailes about this album:
Recently you have released a new record named Balkan Jazz. How would you describe the content of this album, from a stylistic point of view?
It's about a recording made with the Cologne Radio Big Band, WDR Big Band, and my band, with leading violin, accordion and saxophone. The pieces are mostly inspired from the Romanian folklore, although the record is called Balkan Jazz, and they are arranged by a very good and special American orchestrator and arranger, Bill Dobbins. Actually, we have recorded these plays in small combo, in 1999, in Cologne, Stadtgarten, with Dusko Goykovich, and most of the pieces are on this record, also called Balkan Jazz, because that's what the producer from Intuition and Deutsche Welle wanted. The pieces were recorded in the old formula, as I said, with two guitars, trumpet, saxophone, battery, percussion and contrabass and, the orchestration was done, practically, based on this record.

Will there be an official album release?
We will have an official release in Germany. I have tried, four or five years ago, to ask the Big Band here, in Romania, at the 'Enescu' Festival; it was not possible. However, maybe we will get the chance in the future to present this program in Romania as well. We sang a few plays, three or four years ago, with Peter Herbolzheimer and the Bucharest Radio Big Band- there were just two or three pieces. I'm hoping for a release as soon as possible.
Larisa Clempuș
Translated by Alexandra Ilie and Laura Bosnea
MTTLC, Bucharest University