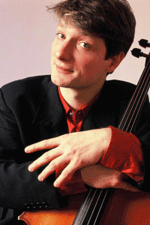 Interview with the cellist Jérôme Pernoo
Friday, 9 September 2011 , ora 10.17

Mr. Jérôme Pernoo, you have won prestigious competitions, such as the Tchaikovsky (Moscow), Rostropovich (Paris) and Pretoria Competitions. What did these distinctions mean for the young man back then - you were barely 22-24 years old at the time?
If these awards come about during your formation, they indeed offer you openings. Afterwards, the concerts, the experience, working beside composers, they all fuel your progress. Little by little, the contests stop having a great importance, but they ensure your onset.
Which are the personalities that have influenced you the most? Has there been a role model during your formation?
I studied in France with Philippe Muller and Xavier Gagnepaine, rigorous teachers who introduced me to the knowledge of the instrument, of the music, laying the foundation of a fundamental repertoire for me. After that, the artistic life I lived in left its mark on me. A personality that has definitely influenced me is Constantin Stanislavski, the legendary Russian. I studied his biography, his books, his theatre, his manner of thinking, taking my inspiration from him in various aspects: from the manner of playing to the understanding of music and, above all, the way in which to convey all your emotions to the audience.
Nowadays, most students are formed in several European or American centers. What is your opinion on globalization? Is it a beneficial phenomenon?
The globalization phenomenon is very close to the musical phenomenon, because nowadays, all over the world, people play almost in the same manner. A while back, musicians could be affiliated to certain cultures: Russian, French and so on. The performers today have the opportunity of taking their inspiration from all schools. I believe it is sad that a certain identity is lost, but, at the same time, it is a progress for the musical art. Performers are looking for something more in the accumulation necessary for their formation. All in all, globalization allows them to enrich their cultural horizon and thus to better serve music.
What does Paris represent for you?
It offers me the opportunity of being a professor at the National Conservatory; it is truly a great opportunity, because the standard is very high: the students are exceptional - they work very hard, aiming at reaching artistic heights that are thrilling for a professor.
What does Bucharest represent for you?
… a great appreciation for the enthusiasm of the audience for the music, the same as in France.
Have you had the chance to acquaint yourself with our capital?
Yes. The first time I saw Bucharest was seven years ago, when I played within the Youth Orchestra of the European Community. I performed Strauss' "La vie en rose" then.
What attributes does a cellist need to have in order to become excellent?
The greatest attribute before being a cellist is being a good musician.
What does a typical day in your life look like? I'm asking you this because you are involved in different activities: you host radio programs, you are the director of the Les Vacances de Monsieur Haydn Festival (La Roche Posay)…
… now I am also writing a book. I like music in the most profound manner and I am dedicating my life to communicating that vibration that the art of sounds reaches. It is a very valuable commitment, which I learned when I was a little boy, because I come from a family of musicians. All things are good: the concerts, organizing the festival, hosting radio shows, making notes on the Internet about my manner of approaching certain works and placing them in a literary and historical context… Everything I do in my life serves only one purpose: MUSIC. I am aware that I am not only an artist, but also an artisan and, for a performer, it is imperative that he maintain a certain humility before art… I believe that musicians recognize in us who is an artist and who is an artisan. We are not the geniuses, but Mozart, Beethoven, Haydn and also a few contemporary composers who write magnificent music, such as Conesson, whose concerto I will be performing in Bucharest. We are the artisans.
I hold a great passion for the new manner of expression of current music and we can see many composers who stand out from the style of the past decades. Back then, creators offered the audience conceptual music, which required a lot of intelligence and a special intellectual interest, but which lost sight of unmediated emotions and the listener's soul. Today, we are witnessing a revolution: music has become tonal again, engaging emotional vibrations through harmonies, melodies and many other things that can't be seen.
Monica Cengher
Translated by Oana Badea
MTTLC, University of Bucharest