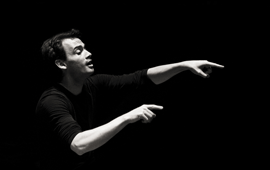 Interview with conductor Sebastien Rouland
Friday, 9 September 2011 , ora 11.09

Master Sebastien Rouland, to start with, I would like you to describe the most important moments of your career. I am aware of the fact that, at first, you studied the cello. When did you decide to become a conductor and what was your motivation?
I studied in Paris, where, as a cellist, I performed a great variety of chamber music, which was my major. That is where I met Marc Minkowski, who was rehearsing Rameau's "Hippolite et Arcie", for a record for Deutsche Gramophone. I was absolutely fascinated by the manner in which he worked with the orchestra, his relationship with the members of the orchestra. It persuaded me to follow this production for the next three weeks. In the end, he took me under his wing, so to say, becoming his assistant and thanks to him, I ended up conducting operas all over the world. This is how my career began.

You had your debut on the international stage in 1995. What did you conduct?
Actually, it was in 1996, and I conducted Wagner's "The Flying Dutchman", where I replaced Minkowski. That was my debut as a conductor. Afterwards, I was first conductor for the Opera in Lucerne, where I conducted a very broad repertoire - from "Carmen", by Bizet, to "Armide", by Gluck. Also, I was invited in the Czech Republic, at the Radio Orchestra in Oslo.

You also love Germany…
Since 2002, I have been working in Germany extensively. This season, I have conducted in Staatsoper, in Stuttgart, where I performed "La juive" by Halévy, an opera I had also conducted in 2008. I am often invited in Freiburg, Leipzig, Wiesbaden....

You are a renowned opera music conductor. Are there differences between the French and the German orchestras?
Of course there are differences. What is fascinating about the German orchestras is their manner of planning the repertoire. They are extremely disciplined because they perform something different every time, reason for which they are so rigorous. In France, many of the rehearsals do not last more than an hour. So, there are great differences, especially regarding the organization of our work.

You are one of the best musicians of your generation. Do you believe in specializations? I am asking you because you hold a very broad repertoire, from Lully, Rameau to Honegger and, of course, Mozart and Wagner.
I insist on approaching a vast repertoire and different styles, depending on the possibilities. Specialization is a remarkable thing, obviously, but what I am interested is in the stylistic accuracy. I think that every musician should be able to approach different styles.

A few words about the program you will be conducting during the festival. It is very attractive and diverse because it is comprised of works signed by Darius Milhaud, Guillaume Connesson, Cornel Țăranu and Hanns Wolf.
It is an extremely diverse program, which challenges the ability of the orchestra to be receptive to this sort of stylistic variety in a single concert. I find this interesting.

Jerome Pernoo is close to your age. Have you ever worked together?
Jerome and I went to school together. I have known him for more than 15 years and, as I was a cellist myself, we became close friends. Recently, I have conducted him at the Philharmonic in Essen, where he was the soloist in Haydn's concert. He is an amazing artist and I genuinely enjoy working with him.
Interview by Monica Cengher
Translated by Laura Bosnea and Mihaela Dănăcică
MTTLC, Bucharest University