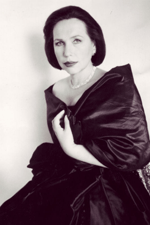 Interview with the Mezzo-soprano Larissa Diadkova, Soloist in the Oratorio Ivan the Terrible by S. Prokofiev
Monday, 12 September 2011 , ora 12.43

Dear Miss Larissa Diadkova, are you for the first time in Bucharest?
Yes, I am here for the first time…

How do you feel here?
I feel fine, I like it, I like the atmosphere of the city during the festival; because I wandered last evening through the streets of Bucharest and I saw many concert stages, were the youth is gathering. What I enjoyed the most is that the youth likes classical music. There is a very democratic ambience in this city…I understood that this festival is grand because of its proportions. I wish this festival to flourish, to gather as many captivating musicians as possible for the delight of the Romanian audience…

How often do you sing under the baton of the maestro Gennady Rozhdestvensky?
We met for the first time, maybe, 12 years ago; I was recording at that time the lieder cycle by Shostakovich inspired by traditional Jewish poems. This was my first encounter with the maestro. Afterwards, I recorded with the orchestra romances by Borodin and a few times we met at the interpretation of the Ivan the Terrible oratorio.

When was the last time you sang this work?
The last time we performed it together at Paris, one or two seasons ago.

Which part of this score you find the hardest to render?
This music was composed for film. But it is so expressive! And because I know this film since my childhood, scenes from it come to my mind, so suggestive is the music and so familiar and close is everything to me… It is difficult, maybe, to follow the contrasting episodes through their state and their content. Very important is here the role of the narrator. Gennady Nikolayevich recites himself many times, but he invited for the role of the author a rhapsodist from Petersburg. Difficult is also the passing from recital to music, to gather them into a whole, through form. Still, I think that Prokofiev's music has such a force that the audience will understand everything, and those who will come to the concert will be pleased.
Sorina Bobeico
Translated by Izabella Feher
MMTLC, Bucharest University